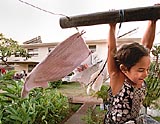 Five-year-old Megan Maiava enjoys the breeze while swinging on a clothesline pole at Mayor Wright Homes in Kalihi-Palama.

Jeff Widener • The Honolulu Advertiser
Roadwork

O'ahu Calendar

Newspaper sale court order
On Nov. 9, a federal judge approved the sale of the Honolulu Star-Bulletin and brought an end to an anti-trust lawsuit filed by the state attorney general against Gannett Pacific Corp., which operates The Honolulu Advertiser. Download order approving the sale and the sales agreement. (Adobe Reader required, 2.3 Mb.)
Pedestrian safety sought
After a deadly year of accidents involving pedestrians, the Legislature is moving to increase penalties against drivers and strengthen existing laws in what is being called the Pedestrian Bill of Rights.

Aching knees at rest, Akebono rides again
Akebono came home yesterday for the first time since announcing his retirement from the sport of sumo two weeks ago.


Army pilot cites hazard to rescues
On missions flown by helicopter pilots in the Army's 68th Medical Detachment, direct communication with the Honolulu Fire Department is impossible until the helicopters touch down, because the radios are incompatible.

Ocean group to gather on Maui
This week, the first research meeting of the new Pew Oceans Commission, a private group examining threats to fish and other marine wildlife, will be held on Maui.
.
New Military Briefing section
In our new section you'll find news about Hawai'i's service-people and the issues affecting them and their families. Check out Military Update, a column by an expert on military benefits, plus a map showing deployments of Hawai'i-based units.