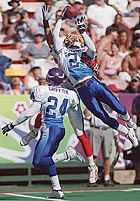 Cornerback Champ Bailey of the NFC pulls down a pass intended for AFC receiver Jimmy Smith. Bailey, who came down with the interception at his 1-yard line, provided one of the few defensive highlights for the NFC.
Eugene Tanner • The Honolulu Advertiser
Updated at 6:50 p.m., February 5, 2001
BREAKING NEWS
UH to renew long-time rivalry with BYU
The University of Hawai'i football team will revive one of its oldest — and heated — rivalries when it plays host to Brigham Young University Dec. 1 at Aloha Stadium.



NFC folds under AFC's nonstop aerial barrage
An Aloha Stadium crowd of 50,128 saw the Raider quarterback take command of yesterday's 31st Pro Bowl in the first 10 minutes with scoring passes to a pair of No. 88s-Kansas City's Tony Gonzalez and Indianapolis' Marvin Harrison.

Gruden's plan passed
LPGA Tour makes two-week stop in Hawai'i
After a week of rest and cross-country travel, the LPGA Tour will be in Hawai'i the next two weeks for the LPGA Takefuji Classic and the Cup Noodles Hawaiian Ladies Open.
Defense sparks Wahine road win
Defending their turf on the road, the University of Hawai'i Wahine suffocated the Western Athletic Conference's most breathtaking offense yesterday, defeating Nevada, 65-52, in a regionally televised basketball game.