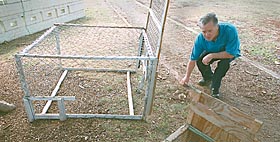 Dale Yasuhara has built traps to catch feral cats in Halawa, which he then takes to get sterilized at the Hawaiian Humane Society and later returns to their areas in Halawa.

Deborah Booker • The Honolulu Advertiser
Advertiser Staff
An admirer describes him as the "Mother Teresa of cats."
But listen to Dale Yasuhara and you'd think he was a detective on a stakeout.
"There's the character I'm after," Yasuhara said intently as he placed his homemade cat trap into position. "The white one with the black tail ... she might be pregnant already."
Bette Rodriguez of Friends for Felines Hawaii, who made the Mother Teresa comparison, said more than 1,500 residents spend their own time and money managing and humanely reducing the feral cat population on O'ahu.
But Yasuhara is the most efficient of those who practice "TNRM" or trap, neuter, release and manage, a program approved by the Humane Society, Rodriguez said.
"He's one of many, but he's fixed more than anybody else," Rodriguez said. "I believe he's fixed about 400 in the last four years."
Hawaiian Humane society spokeswoman Eve Holt praised Yasuhara for his hard work.
"The whole idea of the program is to help reduce the number of feral cats through natural attrition," Holt said. "The outstanding thing about him is that he's really interested in trying to get them spayed and neutered as quickly as possible."
Since the TNRM program began in 1993, when the humane society began providing free cat sterilizations to caretakers, more than 14,500 cats have been spayed or neutered. Holt said the program appears to be working, because the number of stray cats brought to the Humane Society from July to November 2000 was 44 percent lower than during the same period in 1999.
In addition to trapping the cats, Holt said Yasuhara also makes sure that each cat that he brings to the Humane Society leaves with a microchip identification.
"Mr. Yasuhara is terrific because he pays a little bit of extra money ($5 per chip) to make sure that all the cats have the microchip I.D.," Holt said.
Yasuhara, 47, of Kalihi, said, "We fix and release every cat we catch. I'm not into killing; how can you kill and love them at the same time?"
On this late afternoon, Yasuhara brings his trap to a drainage canal in Halawa. Yasuhara's contraption is a framed box about 4 feet high, 3 feet deep and 4 feet long and covered with chain-link fencing on three sides and the top. One side is open, and a sliding trap door looms over the space.
After positioning his trap, Yasuhara opens a can of sardines and dumps it out at the back of the cage, and then attaches green fishing cord to an arm that holds up the trap door.
"I got this idea from small-kid time, when we used to catch birds," he said.
He then unrolls the line until he is about 50 feet from the trap.
"Isn't this guy wonderful?" said Alice Polanco, a "caretaker" who feeds the colony of cats along the drainage canal. Polanco, who showed up to assist Yasuhara, estimates she cares for about 40 cats there. About 10 of them have yet to be fixed, and they are the targets this day.
"They were trapping and destroying them here for years and the kittens kept coming out of the bushes," Yasuhara said. "That just doesn't work."
Yasuhara begins unloading the other components of his system, including an intermediate cage that he uses to transfer cats from the big trap. He will place cats that need to be fixed into traditional traps for transport to the Humane Society, and release those that have already been neutered or spayed.
"We already got that guy," Yasuhara says as he points to a calico that has entered his trap. "You see the notch in his ear? That's how you can tell."
After a cat is sterilized, the tip of one its ears (left for males, right for females) is docked to show it has been spayed or neutered.
Yasuhara said he owned cats while growing up in Wai'anae, but his current passion began about four years ago when a neighbor's pet began hanging around, waiting for handouts. "He was my boy," Yasuhara said. "We fed him so much he was at our house more than the neighbor's."
He also noticed an unsuccessful effort to control a huge cat population around the restaurant where he works, and decided to do something about it.
"The small traps weren't working, and I'm mechanically minded, so I began tinkering and came up with these," Yasuhara said, pointing at his traps. "They worked so well, I was catching six or seven at a time."
Back at Halawa, Yasuhara is not having success luring the white cat with the black tail into the trap. "Probably got to wait until night," he said. "But I'm here to kick some butt, and I'll get my man — make that girl."
About the Mother Teresa description, Yasuhara said he's flattered, but added he's not catching cats for a pat on the back. "It may sound funny, but I just want to stop death," he said.
"I don't need a plaque from the mayor. I just feel good when I catch a cat, because I know that's one less that is going to get killed on the street. I guess that's what Mother Teresa was about."