By James Gonser
Advertiser Leeward Bureau
KAPOLEI — City-sponsored discussion groups have begun on the proposed expansion of Waimanalo Gulch Landfill, a project that the area's neighborhood boards have steadfastly opposed.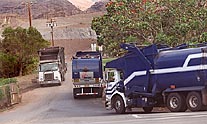 Waimanalo Gulch Sanitary Landfill's 86.5 acres are expected to be filled by next year.

Bruce Asato • The Honolulu Advertiser

The meetings are designed to address concerns raised about the expansion after the city filed its draft environmental impact statement with the state last fall, according to Herb Lee, who is representing the city.

The first meeting drew about 35 people to Kapolei High School last week. The next meeting is tentatively set for Feb. 20 for Wai'anae residents at Kapolei High School. An open public information meeting will be announced later.

Opponents say the city's report did not include any meaningful discussion of alternative technologies to handle rubbish or possible locations other than the existing landfill.

The 60.5-acre expansion to the landfill in Kahe Valley would provide space for rubbish though 2017, according to the city. The landfill is operated by Waste Management of Hawai'i Inc. and now uses 86.5 acres at the 200-acre site, which will be filled by 2002.

Lee said the city expects to submit its revised draft impact statement in April or May.

"Our mission is to give the public whatever information they need to make a decision," Lee said. "We are sharing information about all of their questions."

Representatives from neighborhood boards, communities and businesses in the Kapolei, Honokai Hale and Makakilo were asked to sit in on the first meeting. Other meeting will focus on members of other communities, Lee said. City officials and Waste Management representatives are also attending to answer questions.

"I'm trying to bring in everybody that has anything to do with solid waste to answer questions," Lee said.

Ken Williams, general manager of the Ko Olina Community Association, attended the meeting and said the existing landfill has not been a good neighbor, allowing rubbish to escape, odors to permeate the air and dirt and mud to cover the roads.

"The compatibility of that use right next to a resort community is inappropriate," Williams said. "In the original 1984 EIS there was no mention the landfill would be expanded."

Williams said the city is pushing through this expansion because it has not properly prepared for the future.

"We are being told the landfill will reach its capacity in 2002 and it seems like this timing will force the wrong decision," Williams said. "It has been known for years that something would have to be done. If you start looking at alternative sites at this point it would take too long to develop and forces lawmakers to support the expansion."

Williams said the meetings are simply a formality and it is obvious that a decision has already been made.

Lee denied that saying no final decision on a landfill site has been made.

"However, the city is recommending that Waimanalo Gulch is the preferred landfill expansion site," Lee said. "Now they have to show the community why that is the preferred site."

Lee said an alternative site would need to be able to accommodate at least 15 years worth of solid waste and two of the alternative sites being looked at are also on the Leeward side. A third is near Waimanalo town.

"We have a problem that affects all of the island and we need to sit down and understand the facts and make a decision based on the same information," Lee said. "Even if expanded, it will eventually have to go somewhere else. It is a finite space. The question is where and when."