Gruden's plan passed
How they scored
Pro Bowl results and MVPs since 1971
By Michael Tsai
Advertiser Staff Writer
Still smarting from a separated shoulder and a broken clavicle, Rich Gannon knew he wouldn't get many snaps in yesterday's 31st Pro Bowl.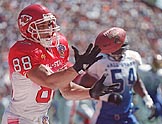 Tony Gonzalez of the Kansas City Chiefs hauls in this pass for an AFC touchdown in the first quarter.

Eugene Tanner • The Honolulu Advertiser

He made the most of his brief appearance, completing 12 of 14 passes for 160 yards and two touchdowns in the first quarter as the AFC stormed past the NFC, 38-17, for their fourth victory in five years.

An Aloha Stadium crowd of 50,128 saw the Raider quarterback take command of the game in the first 10 minutes with scoring passes to a pair of No. 88s-Kansas City's Tony Gonzalez and Indianapolis' Marvin Harrison.

"We got into a good rhythm early," said Gannon, who received the Dan McGuire Award as the Player of the Game. "I just tried to get the ball into the hands of our receivers and let them make plays."

Harrison finished with 84 yards and two touchdowns on eight receptions. Gonzalez caught six passes for 108 yards and a touchdown. Reserve quarterback Peyton Manning of Indianapolis spelled Gannon after two drives and finished with 150 yards and two touchdowns on 16-of-22 passing.

In his first Pro Bowl, NFC starter Daunte Culpepper rebounded from a wobbly first half to finish with 81 yards and a touchdown on 9-of-21 passing. He also rushed twice for 16 yards. San Francisco's Jeff Garcia completed 15 of 28 passes for 144 yards while St. Louis' Torry Holt led all NFC receivers with 103 yards and a touchdown on seven receptions.

On the opening drive, Gannon, who was injured on a Tony Siragusa tackle in the AFC Championship game last month, completed all six of his pass attempts as the AFC marched 87 yards on nine plays. Gannon capped the drive with an eight-yard touchdown pass to Gonzalez in the back of the end zone.

"We were talking all week about how to get open and when to hit me," said Gonzalez, who played with Gannon for two years in Kansas City.

Said NFC head coach Dennis Green: "Gonzalez is such a terrific player, he easily could have been the MVP."

Green was also impressed by the AFC's defense, which harassed his team into a 56-second, three-and-out first drive. The AFC got the ball back on its 10-yard line.

Running head coach Jon Gruden's West Coast offense to perfection, Gannon picked apart the NFC's coverage with quick completions to Tennessee's Frank Wycheck, Denver's Rod Smith and Gonzalez. His final pass of the game, a 16-yard completion to Harrison followed by a Matt Stover kick, gave the AFC a 14-0 lead with 4:08 remaining in the first quarter.

"We scripted the first 10 plays and things pretty much stayed on schedule," Gannon said. "The guys made big plays and that was the way it was supposed to work."

After the two teams traded field goals to start the second quarter, Mo Lewis of the Jets picked off a Garcia pass at the AFC 28 and returned it 16 yards. That helped set up a two-yard touchdown pass from Manning to Jacksonville's Jimmy Smith that extended the AFC's lead to 24-3.

Like Gannon, Manning said he was in awe of the offensive options he had at his disposal.

"I tell you what, if you can't complete passes with the guys we have, you've got problems," Manning said.

With eight seconds left in the half, Brock Marion intercepted a long Culpepper pass intended for Minnesota's Cris Carter at the AFC 1.

Buffalo's Eric Moulds credited Gruden's pass-friendly game plan with establishing the offensive tone early.

"You've got to enjoy that offense," he said. "Coach Gruden did a great job of getting everybody involved. He made sure all of us caught a couple of balls."

Gruden said the game's modified defensive rules helped.

"The coverages we were seeing are a little bit limited," Gruden said, "and we have Pro Bowl quarterbacks who knew what to do."

Detroit's Desmond Howard opened the second half with a 35-yard return that gave the NFC the ball at their 42-yard line. Reserve quarterback Donovan McNabb took it from there, hitting Tampa Bay's Warrick Dunn for gains of 28 and 13 yards. McNabb, after bobbling the snap, then connected with San Francisco's Terrell Owens for a 17-yard touchdown strike to narrow the deficit to 24-10.

However, the NFC may have tried to get back too much too soon. Martin Gramatica's ensuing on-side kick traveled just six yards before Miami's Zach Thomas reeled it in on the NFC 36. Five plays later, Manning threw a 24-yard pass to Harrison for another touchdown.

Culpepper returned midway through the quarter and promptly orchestrated a six-play, 75-yard drive that ended with a 20-yard touchdown pass to Holt.

"That was sheer determination," Culpepper said. "It was tough playing against an all-star defense, the best in the AFC. But I had to get a highlight somehow."

Indianapolis running back Edgerrin James sealed the game in the fourth quarter, breaking two tackles as he powered down the middle of the NFC defense for a 20-yard score.

In a game in which the two teams combined for a record 98 pass attempts, the AFC's Eddie George led all rushers with 31 yards on eight carries.

"I had fun," George said. "The passing game opened up a lot of running lanes. That definitely made it easier for us in the second half."

Said linebacker Jessie Armstead of the New York Giants: "We knew there was going to be a lot of passing with that offense. We tried to D-up but they still made a lot of plays. It was great, though. This is the kind of game fans love, a high-scoring game."