By Mike Gordon
Advertiser Staff Writer
Three U.S. nuclear-powered fast-attack submarines will be transferred to Guam by 2004, the Navy said yesterday.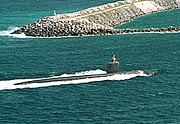 The Los Angeles-class USS Cheyenne maneuvers through the choppy waters of Apra Harbor in Guam. Three submarines of the same class will be moved to Guam within the next three years.

U.S. Navy photo

The decision, made by former Secretary of the Navy Richard Danzig, was finalized about a week ago, but does not include a determination on which submarines will be moving, said Lt. Cmdr. Dave Werner, spokesman for the U.S. Pacific Fleet Submarine Force.

The first of the Los Angeles-class submarines would arrive in Apra Harbor sometime during the fiscal year 2002 and the other two about two years later.

Last year, the Navy's chief of nuclear propulsion, Adm. Frank Bowman, said the submarines would come from berths in San Diego and Pearl Harbor.

Each of the fast-attack subs has a crew of 120 to 130 people. On average, those crews have 65 families. The Navy estimates the annual salary of a crew that size at $6.5 million.

The move will help extend the life of an aging submarine fleet, giving them two months a year they won't have to spend traveling.

With Guam about 3,300 miles northwest of Hawai'i, the move also puts submarines in a better position to respond to problems, Werner said.

"It offers a savings in both time and distance," Werner said. "Largely, the move was made because there are more critical missions there than there are attack submarines."

Between 1995 and 1999, time away from home for the Navy's submarines has increased from 67 percent to 78 percent, he said. Much of that time is spent underwater, with submariners working constantly to keep the vessel operating smoothly.

During roughly the same period, the number of days submarines have been assigned to intelligence, surveillance or reconnaissance tasks has almost doubled.

Nineteen fast-attack submarines are homeported at Pearl Harbor. If any of them are chosen for the move, it is not known if they would be replaced, Werner said.