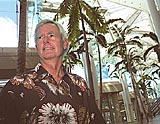 Hawai'i Convention Center general manager Joe Davis may soon be facing the biggest challenge of his career.

Advertiser library photo • Oct. 27, 2000
Slump could slow Convention Center bookings in Hawai'i
With millions of square feet of convention center space coming on the U.S. market over the next few years, and a slowing Mainland economy, filling Hawai'i's $350 million convention center could prove harder than in years past.

Las Vegas banks on convention space
A&B sells properties in Pacific Northwest
Alexander & Baldwin Inc. has sold three Washington state properties for $15.6 million, and will reinvest the proceeds in other real estate opportunities, the Honolulu-based company announced yesterday.
Click!
St. Andrew's gets unhooked to Internet
What people want is to be connected and unconnected, at the same time. That's the thinking, anyway, behind the move toward wireless Internet services.