By Stacy Kaneshiro
Advertiser Staff Writer
A year ago, Keoni DeRenne and Dane Sardinha were at the peak of their collegiate baseball careers that culminated in All-America honors.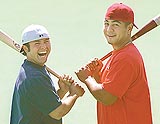 'Iolani graduate Keoni DeRenne, left, and Kamehameha alumnus Dane Sardinha are highly regarded prospects in baseball's minor leagues. DeRenne plays in the Atlanta Braves' farm system while Sardinha is with the Cincinnati Reds' system.

Deborah Booker • The Honolulu Advertiser

Today, they're working their way up. To the big leagues, they hope. They leave for spring training in the coming weeks.

Both signed pro contracts after completing their junior seasons in college — DeRenne ('Iolani '97) at Arizona and Sardinha (Kamehameha '97) at Pepperdine.

"Sometimes, I wish I were going back to Pepperdine to play," Sardinha said with a laugh. "But it's going to be a good start for me. Hopefully, I can do all right."

Sardinha, 21, was a second-round selection of the Cincinnati Reds. After long negotiations, he agreed to a six-year major league contract, guaranteeing him $1.95 million with incentives and roster bonuses that could make the total package worth $2.4 million, according to Baseball America magazine. Unlike a straight signing bonus that most draft picks get, Sardinha's contract automatically placed him on the Reds' 40-man roster and required that he remain in the majors beginning in 2003.

Since Sardinha did not sign until Sept. 1, he was too late for the minor league season. Instead, he went to the instructional league for a month.

"I'm nervous mainly, just to be even practicing with those guys," Sardinha said. "I'm not experienced so this is my first time starting off in pro ball, practicing with the major league guys. It's nerve-racking."

He is expected to start the season in high-Class A. "But hopefully I do well enough in spring training so I move higher," Sardinha said. "That's my goal."

Sardinha spent the offseason working on strength and conditioning. Four times a week, he trained under Tommy Heffernan, coordinator of strength and conditioning at the University of Hawai'i. Sardinha ran on the other three days.

"So many major leaguers are so strong and quick," Sardinha said. "So that's my main goal right now, to get stronger and quicker."

He noted his contract doesn't allow him to surf or play any other organized sports.

Sardinha's defense is considered major-league ready, according to a number of analysts. He said he must work on his hitting and learn to handle his pitchers.

DeRenne, 21, a 12th-round pick of the Atlanta Braves in the 2000 draft, is preparing for his first full season of pro ball. After signing last summer, he played just 20 games in low-Class A Jamestown (N.Y.) before finishing the season with 38 games at Class A Macon (Ga.).

At Jamestown, DeRenne batted .303 with a .413 on-base percentage, scoring 19 runs in 20 games. At Macon, he hit .262 with a .319 on-base percentage. He batted either leadoff or No. 2. DeRenne said the Braves are grooming him to be a top-of-the-order hitter.

That means "being patient and not giving in to the pitchers' counts," DeRenne said. "You have to study the pitchers, be more a student of the game."

As a middle infielder, DeRenne has stiff competition. Braves' starting shortstop Rafael Furcal, who is just 20, jumped from Class A to the majors last year, batting .295 with a .394 on-base percentage at primarily the leadoff spot.

Then there is 19-year-old shortstop Wilson Betemit, who batted .331 with a .393 on-base percentage at Jamestown. Baseball America lists Betemit as the organization's top prospect. "He's a great player," DeRenne said. "He can be real flashy, make a nice play on defense. But he's erratic (on defense)."

DeRenne's strength is his versatility. He played three games at third base at Jamestown and the rest at second base, but only played shortstop at Macon.

"Playing both (second and short) helps my cause," he said.




COLLEGE
Louisville (0-4) vs. Hawai'i (3-3), 6:35 p.m. Friday, 1:05 p.m. Saturday, 2:05 p.m. Sunday at Rainbow Stadium.
The Rainbows will try to snap a two-game skid against the winless Cardinals, who dropped two at USC and single games at Cal State-Northridge and Pepperdine.
Louisville, which finished eighth in Conference USA last year, is led by second baseman Matt Jarboe, the team's second-leading hitter last season at .341, and center fielder Mike Hook (.279), who stole 29 bases in 36 attempts.
Hawai'i leadoff hitter Matthew Purtell (.360) is perfect in stealing (4-for-4); Chad Boudon leads the team in home runs (2); and Gregg Omori and Patrick Scalabrini are tied for the team lead in RBIs (5 each).
Right-handers Jeff Coleman (0-0, 2.70 ERA) and Sean Yamashita (0-1, 11.81) are the probable starting pitchers the first two games of the series. Sunday's starter has yet to be determined, although Gavin Garrick (0-2, 15.75) made the other two starts.
Nevada (1-5) vs. Hawai'i-Hilo (1-7), 6 p.m. Friday, 1 p.m. Saturday and Sunday at Wong Stadium.
The Vulcans will try to snap a four-game losing streak- all against Loyola Marymount last weekend — against Nevada, the newest member of the Western Athletic Conference. But the Wolfpack, champions of the Big West last year, were swept in three games at Pepperdine and dropped two of three at Pacific.
The Vulcans are struggling offensively, averaging just 2.6 runs per game. Only Ryan Petersen (10-for-30) and Mike Hobbs (7-for-21) are batting over .300.
The Wolfpack are led by first baseman JaRell McIntyre (.417, 3 doubles, 1 home run) and outfielders Chris Nickerson (.389, 2 HRs) and Mike Hass (.364).
Around the nation: Long Beach State second baseman Kaulana Kuhaulua (Wai'anae '98) batted 9-for-18 during a three-game sweep of Arizona last weekend. Kuhaulua, drafted twice out of Los Angeles City College, opted to sign with the Dirtbags, the 49ers' unofficial nickname in baseball. . . . Nebraska All-America pitcher Shane Komine (Kalani '98) makes his season debut in the Cornhuskers' opener Friday against Rice at the Rice Invitational in Houston.