Advertiser Staff
Softball players in the state high school tournament are overwhelmingly opposed to changing their season to spring months, according to a survey conducted recently by the Hawai'i High School Athletic Association.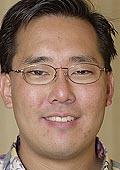 Keith Amemiya, executive director of the HHSAA, said nearly 90 percent of the players want to keep softball as a winter sport.

Richard Ambo • The Honolulu Advertiser

More than 174 players on the 12 teams in the tournament that ended Saturday responded to the survey, and 88.5 percent of them want to keep softball as a winter sport in Hawai'i, said Keith Amemiya, executive director of the HHSAA.

He said 4.5 percent favored changing the season from winter to spring and 7 percent had no preference.

Most Mainland states play interscholastic softball in the spring and all colleges play in the spring. It has been a winter sport in Hawai'i partly because the competition for playing fields is less intense in the winter and partly because the weather allows it.

Coaches, too, opposed a change of seasons. Of about 67 coaches from 42 of the state's 50 softball teams who responded, 77.6 percent wanted status quo, 16.4 percent favored a spring season and 5.9 percent had no preference, Amemiya said.

The question asked of both players and coaches was, "Taking into consideration all of the relevant facts and the possible ramifications upon all high school sports, do you support a change in the softball season from the winter sports season to the spring sports season?"

Boys and girls soccer (winter) and girls basketball (spring) also are played "out of season" in Hawai'i and administrators have contended that if one sport were moved to its "traditional" season, all would have to be changed.

Field and gym space were the reasons for the sports originally being conducted "out of season."

Last May, 84.2 percent of girls in the state basketball tournament opposed changing the season to winter and 11.8 percent favored a change. Coaches opposed the change 85.5 percent to 8.4 percent.