By Kevin Dayton
Advertiser Capitol Bureau

State Rep. Nobu Yonamine today said he intends to resign from the Legislature following his arrest for drunken driving last night.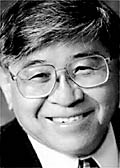 YONAMINE

Yonamine, 66, had been arrested for drunken driving once before in 1984, he said.


"I feel strongly, and this is my conscience speaking, that I do have a higher standard and I've let my family down, and I've let my colleagues down and I've let my constituents down, and I feel right now that I would want to submit a resignation," he told reporters outside the House chamber at the State Capitol.


House Speaker Calvin Say, D-18th (Palolo, St. Louis, Kaimuki) said he does not believe Yonamine should quit, and suggested his colleague take some time to think about his situation before deciding what to do.


Yonamine D-35th (Pearl City, Pacific Palisades) has represented the Pearl City district since 1989, when Gov. John Waihee appointed him to fill the remaining term of the late Rep. Roland Kotani.


Yonamine also served on the state Board of Education for eight years.