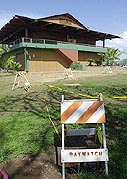 The John K. Kalili Hale'iwa Surf Center will no longer be the setting for "Baywatch Hawai'i" scenes, as producers of the syndicated TV show yesterday announced they were ending production after 11 seasons, the last two in Hawai'i.

Richard Ambo • The Honolulu Advertiser




New Military Briefing section
In our new section you'll find news about Hawai'i's service-people and the issues affecting them and their families. Check out Military Update, a column by an expert on military benefits, plus a map showing deployments of Hawai'i-based units.
Posted at 2:11 p.m., February 8, 2001
BREAKING NEWS
Pearl City lawmaker to resign after drunk-driving arrest
State Rep. Nobu Yonamine, D-35th (Pearl City, Pacific Palisades), today said he intends to resign from the Legislature following his arrest for drunken driving last night.


Updated at 3:30 p.m., February 8, 2001
Chevon plant flares, but no evacuation needed
Chevron's Hawaii Refinery sent huge black clouds of smoke into the air this afternoon when it shut down the plant to correct an operational problem.


Updated at 1:35 p.m., February 8, 2001
Three inmates attempt escape from OCCC
Police arrested three inmates this morning after they tried to orchestrate a daring jailbreak at the Oahu Community Correctional Center, officials said.


Posted at 10:07 a.m., February 8, 2001
Maui water board calls for voluntary restrictions
The Maui County Board of Water Supply today declared a drought emergency for the Upcountry region and is urging affected residents and businesses to conserve water.



Low ratings, high costs sink 'Baywatch Hawai'i'
Fading viewer interest and high costs have ended the run of "Baywatch Hawai'i," the bikini-and-biceps lifeguard series that moved to the Islands in 1999 at the urging of local officials.

State took gamble in luring series

Council considers cost of security for bank meeting
City officials are gearing up for demonstrators expected to be drawn to the high-powered meeting of world leaders in Honolulu for the Asian Development Bank conference in May.

Army to re-evaluate concerns at Makua
Bowing to public concern about Makua Valley, the U.S. Army yesterday withdrew its assertion that live-fire training will not significantly impact the valley.


Click! Techtoy Giveaway
Win a Casio wristwatch digital camera. Enter through Feb. 11 to win.

Interactive Sports
Read a transcript of last night's live chat on UH football recruiting with assistant coaches Rich Miano and Mike Cavanaugh, then join our discussion on the signing season.