By Beverly Creamer
Advertiser Staff Writer
When Florence Waldow started water exercise to ease arthritis pain more than 20 years ago, she found it wonderfully soothing.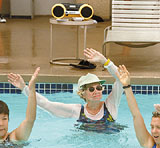 Myrtle Schefer moves to the music during an aqua exercise class at the Honolulu Club pool. The class is sponsored by the Arthritis Foundation.

Jeff Widener • The Honolulu Advertiser

"You can do things in the water that you can't do on land," said the 87-year-old, who has had her right knee replaced because of pain from both rheumatoid and osteo arthritis.

"Suddenly being able to do all these things with no pain, it's like that feeling runners get, that high."

Aqua exercise has come a long way. No longer a haven for the wanabe workout set, it's now hard core with a variety of bobbing "noodle" floats and other gear, as well as webbed "duck" gloves that add resistance to arm exercises.

While it can be a tough and demanding workout for everyone, water exercise is especially beneficial for those suffering the joint pain and immobility of arthritis.

In the last few months, water exercise programs for arthritis sufferers have been popping up all over town, partly because of new training offered a few months ago by the Arthritis Foundation that certified 42 Hawai'i instructors in the organization's formal Aquatics Exercise program for arthritis sufferers.

"Water exercise is especially appropriate for people with arthritis, because you're buoyant in the water," said Susan Milton, Arthritis Foundation program director. "For joints that are painful on land, suddenly you have such freedom of movement; it's almost like dancing."

The program is designed specifically to help those with painful joints from osteo or rheumatoid arthritis. The first involves the wear and tear on joints because of aging, while the second is a systemic auto-immune condition in which the body attacks itself.

"Our goal is to try to get instructors trained in this program so they'll offer it at their facility to make the program available throughout the community," Milton said. "But we have a terrible shortage of warm-water pools in Hawai'i. A lot of the outdoor ones have heaters, but they're reluctant to turn them on because it's costly to heat a pool here.

"Some of the Parks and Recreation ones have heaters, and they might turn them on early in the morning just to take the chill out, but that's not warm enough for people with arthritis."

As part of this effort, the Honolulu Club has thrown open its heated pool to arthritis sufferers and, from the sounds of things, fitness coordinator Cheryl Henry might as well be leading a religious revival.

"I've had people who came in using walkers or canes, and after six weeks they said they were able to walk unassisted," Henry says.

Aqua exercise classes for arthritis sufferers

Kaimuki-Wai'alae YMCA: 737-5544. 10 and 11 a.m. Tuesdays and Thursdays; 3 p.m. Saturdays. $31 per month for twice a week and $43 for three times a week. Individual classes $7. A note from doctor needed.

The Honolulu Club: 11:30 a.m. Feb. 24-March 17 and March 24-April 14. Saturdays. Classes are $4. Call 543-3946 and ask for Cheryl Henry. Doctor referral needed, with forms available from the club.

HealthSouth, a sports medicine facility in Waipahu: 677-5177. 9:30 and 11 a.m. Tuesdays and Thursdays. $5 per session or $40 for 12 sessions. Doctor's prescription required.

Windward YMCA: 261-0808. 8 a.m. Monday, Wednesday and Friday; 8:30 a.m. Tuesday and Thursday. Either $5 per class or unlimited classes available by joining the Y at $40 and paying a $30 monthly fee.

Rehabilitation Hospital of the Pacific: 566-3719. 3 p.m. Tuesday and Thursday; class is especially for people with fibro-myalgia, a severe form of arthritis. $4 per class. Doctor's prescription required.

Pohai Nani Retirement Center: 247-6211, ext. 1107. 9 a.m. Tuesday and Thursday in shallow water; 3 p.m. Wednesdays in deeper water. All classes $3.50. Limited space available.

"It never was a wimpy workout," she continues. "It looks wimpy from the outside because the movements are slow, but when you're trying to resist that much water, you're doing a weight-lifting workout underwater with unlimited range of motion."

"Water is like a safety net. It cushions you," said Anna Gibbons, who teaches aqua exercise classes at the Honolulu Club. "I have people with joint problems and people recovering from injuries, and this is a way to get back into exercise and move freely without jarring and pounding. And you still get a good cardio and toning workout. You can burn 450-750 calories in an hour class."

Ernest Petersen, 77, agrees with that. The thrice-weekly aqua exercise program at the Kaimuki-Wa'ialae YMCA pool across from Kahala Mall has helped keep his arthritis pain at bay and stimulate his circulation so he can keep walking.

"You're quite comfortable, particularly right after the exercise," said Petersen, who says the aqua exercise makes it possible to take a daily mile-long jaunt. "The flotation in the water takes the strain off your joints, I would say for the rest of the day."

Petersen said the program is gentle enough for people at all levels of disease. "I have four curled fingers, two on each hand, and I play keyboard and I don't want them to get further curled. They actually do an exercise for the fingers, too."

Milton knows what Petersen is talking about. Four months ago, she began taking aquatic exercise classes to ease painful joints from rheumatoid arthritis.

"Exercise is really hard when it's painful to move," Milton said. "The fact that I can get in the water and exercise without pain is remarkable. When I get out of the water,

I generally have less pain in my knees. And it might last the whole rest of the day."

But she recommends that anyone considering any exercise regime consult their doctor first.

Waldow says it's important for those with arthritis to be in a pool deep enough so that your shoulders can be submerged. For her lanky

5-foot-6-inch frame, the Honolulu Club pool is too shallow, she said, and it's painful to crouch. It's also important to have steps suitable for those with difficulty walking.

Water exercise has definitely eased her pain, Waldow said, but nothing lasts forever.

"Arthritis pain is not constant. You feel good when you're in the water and when you come out, and maybe you feel good for a couple of days afterward. On the other hand, you can have a spasm the next minute."

Michael Ibon, a physical therapist assistant, said that movement actually decreases arthritis pain.

"The more you stay still, the more pain you get," said Ibon, a certified aquatics instructor who teaches water exercise classes for arthritis sufferers at Healthsouth in Waipahu.

Petersen finds that the water exercise controls pain in his knee and hip. "I've already had one knee replaced, and I don't want to have to do another one," he said. "It's a six-week recovery period with quite a lot of pain. I was in love with my ice pack."

Best of all, water exercise keeps him active.

"When you get to be this old, you don't want to be too still," he said, chuckling, "or they might bury you."