By James Gonser
Advertiser Leeward Bureau
KAPOLEI — After more than two years of construction, the city officially will open its $21.5 million Kapolei Hale during a ceremony this morning.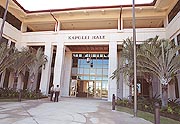 Kapolei Hale, which officially opens today, has a Spanish-style design. The three-story, 100,000-square-foot building on the Leeward Coast contains a satellite city hall, a driver licensing office, a large conference room and a one-stop building permit office.

Deborah Booker • The Honolulu Advertiser

Kapolei Hale is now home to a satellite city hall, a driver licensing office, a large conference room and a one-stop building permit office in the three-story, 100,000-square-foot building. As with most large buildings here, Kapolei Hale is designed in a Spanish style from the 1920s with a large, open entry, a green tile roof and tall windows on all sides.

Completing the new civic center and offering other city services in Kapolei shows the administration's commitment to development of the "new" city, according to city spokeswoman Carol Costa.

"We are looking toward the future," Costa said. "It is a major building for the community and its future growth and will provide for residents' needs 20 to 30 years down the line."

Costa said the new Express Bus service, the new Kapolei police station that opened in July and the Kapolei fire station, which opened in 1995, are all benchmarks of area development.

"It is our fourth major project for that community," Costa said. "It has the latest equipment and special features connecting it with town for speedy responses."

New civic center
What: Mayor Jeremy Harris will hold a blessing and grand opening ceremony for Kapolei Hale
When: 10 a.m. today
Where: 1000 Uluohia St. off Kamokila Boulevard. Tours of the facility will follow.
Services: The satellite city hall and driver licensing office will provide services including motor vehicle licenses and registration renewal;city and state job information; picnic and camp permits; TheBus pass sales and information;acceptance of water bill payments; licenses for dogs, mo-peds and bicycles; and voter registration. Services are available beginning today.
Phone: 692-5400.

For the approximately 75,000 area residents, the satellite city hall means convenience.

Mike Golojuch, chairman of the Planning, Zoning and Development Committee for the Makakilo/Kapolei/Honokai Hale Neighborhood Board, said having more city services located in Kapolei is a real time-saver for residents.

"People can take care of most of their normal day-to-day city activities right there at that building," Golojuch said. "It will also benefit local businesses working in the area because they won't have to drive all the way into town and back to get permits."

Golojuch said that with average traffic, it takes about an hour to drive to the city Municipal Building in Honolulu.

Kapolei's one-stop permit center consolidates development and construction permits as well as planning and review functions, all previously performed by six different city departments. With this streamlined system, applications for all projects are reviewed and processed at a single location.

Honokai Hale resident Jane Ross said she has been routinely conducting her city business in Wai'anae rather than making the drive to town and looks forward to the new services.

Construction began on Kapolei Hale in December 1998 on a 7.5-acre lot makai of the new state office building.

The building was constructed by Hawaiian Dredging Construction Co. and was designed by Kober/ Hanssen/Mitchell Architects. The entire 22-acre parcel of land was donated by the Estate of James Campbell for Kapolei Hale and other buildings.