By Curtis Lum
Advertiser Staff Writer
Edwin S.N. Wong, chief executive officer for Waterhouse Inc. and former executive at Alexander & Baldwin Inc., died Sunday in Honolulu. He was 71.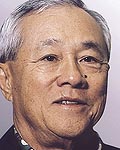 Edwin S.N. Wong joined Alexander & Baldwin in 1970.

Wong was born on Aug. 26, 1929, in Honolulu and graduated from McKinley High School.

Wong, who received a bachelor's degree at the University of Hawai'i and a master's degree in public affairs from Syracuse University., was also an Air Force parachutist.

He began his business career in 1956 as manager of container operations at Castle & Cooke Terminals Ltd. Wong worked with Matson until 1970, when he joined Alexander & Baldwin as vice president of industrial relations.

When he retired in 1991, Wong was Alexander & Baldwin's senior vice president. Although retired, he was hired by longtime friend Alex Waterhouse as chairman and chief executive officer of Waterhouse Inc.

Wong also served as the chairman of the Blood Bank of Hawai'i, Chamber of Commerce of Hawai'i, Hawai'i Visitors Bureau, HMSA, University of Hawai'i Foundation, and Rehabilitation Hospital of the Pacific. He was an avid sports fan and served as president of the University of Hawai'i's Na Koa Football Club.

Chamber of Commerce president Stanley Hong worked closely with Wong at the Hawai'i Visitors Bureau. "I'm very proud of him and all the things that he was able to accomplishment, starting from very humble beginnings," Hong said. "He was certainly of his generation one of those that stood out as a person of accomplishment."

Wong is survived by his wife, Kiyoko "Rie"; son, Michael; daughters, Carrie, and Maureen Walter; and one grandchild.

Visitation Sunday at 4:30 p.m. at Central Union Church, service at 5:30 p.m. Donations may be made to the Rehabilitation Hospital of the Pacific and Na Koa Football Club.