By Will Hoover
Advertiser Staff Writer
O'ahu resident Leslie Vincent Fullard-Leo, Hollywood actor, adventurer, businessman and owner of Palmyra Atoll, died in Honolulu on Feb. 1 at age 91.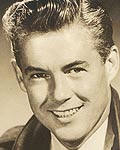 Leslie Vincent Fullard-Leo acted under the name Leslie Vincent.

Fullard-Leo was a graduate of Punahou School and attended school in Winchester, England. As a young man, the athletic Fullard-Leo was also a noted swimmer and Alpine skier.

In the 1930s he worked his way to Asia on an ocean liner and lived in Shanghai for a year. He later returned to England, where he was one of the few Americans working on the stock exchange.

Fullard-Leo studied acting at the Royal Academy of London, and appeared more than 30 Hollywood movies in the 1930s, '40s and '50s, including "Pursuit to Algiers," "Forever Amber" and "In Harm's Way." In Hollywood he performed under the name Leslie Vincent.

"Marlene Dietrich gave me my first big break in acting," he once said. The two met in France and became friends. Fullard-Leo landed a lesser role the famous 1939 film "Destry Rides Again," starring Dietrich.

Although he had major role as a young RAF pilot in the critically acclaimed "Paris Underground," a 1945 war film, Fullard-Leo didn't reach the Hollywood big time.

"He never made major film stardom," said his brother Ainsley Fullard-Leo. "He came close, but then the Palmyra thing came up and he had to drop out."

The "Palmyra thing" was a decades-long legal skirmish with the federal government over the ownership and use of the pristine Pacific atoll 1,000 miles southwest of Hawai'i. The atoll was purchased by Fullard-Leo's parents in 1922 for $15,000. But the government claimed title. Ultimately the Supreme Court ruled in favor of the Fullard-Leo family.

Following his Hollywood career, Fullard-Leo headed a small hotel association on O'ahu.

Fullard-Leo is survived by brothers Ainsley and Dudley Fullard-Leo, four nephews and one niece. Private service are pending.