By Paula Rath
Advertiser Staff Writer
During the '90s, it was common for friends to gather in restaurants or clubs. Now, however, even formal or business entertaining is becoming more personal and home-based.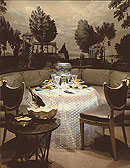 Following John Loring's principle that "Having as much fun as possible is the point of entertaining," this table, designed by Jean-Francois Daigre for an after-opera party, employs bubble wrap as a tablecloth, with lighting coming from within the table.

Tiffany & Co.

Recently, The Advertiser took advantage of the visit to Honolulu of one of the world's experts on entertaining, John Loring, design director of Tiffany & Co., asking him to sit around a table (breakfast at Tiffany's, no less) with four Island women who enjoy entertaining to share ideas and talk trends.

Loring is an accomplished designer, artist and author with 10 books on the subjects of style, table settings and entertaining. His hobbies, cooking and interior design, have been detailed in publications such as Bon Appetit, Architectural Digest, the New Yorker and GQ.

Although he has entertained celebrities, including actress Bette Davis and designer Paloma Picasso, and is renowned for his glamourous New York and Paris parties, we found him to be refreshingly down-to-earth, gracious and energetic.

The four women who came out at 7 in the morning to pick Loring's brain have different entertaining styles and needs:
Lori Eldridge: Eldridge, who has lived in cities around the world, gives small dinner parties for eight to 10 people once or twice a month and larger parties, for 20 or so, four times a year, as well as a big Christmas event. Philosophy: "To prepare a meal for people you care about is a special thing. I don't like to cook every day, but I love to cook for friends."
Gaye Glaser: Glaser, a strong supporter of the arts locally, gives small parties once a month, larger events 10 times a year. Philosophy: "I enjoy seeing people happy, and that's why I entertain."
Kaui Philpotts: Philpotts, an Advertiser columnist on entertaining and local-style cooking, gives small dinner parties once a month or every six weeks and larger parties three times a year. Philosophy: "Don't try to do everything yourself. Do the part you enjoy and let the rest go. I'm a great believer in decanting. Find somebody who makes something really well, whether it's sushi or potato salad, and buy it from them. Then decant the contents of the Styrofoam box into a pretty container."
Barbara Thacker: Thacker, whose specialty is creating a table gift to stimulate conversation and unite the group, gives three big parties a year for Honolulu Zoological Society volunteers; two formal parties a year for family and friends; several casual potlucks, as well. Philosophy: "It's such a relaxing gift to your family and friends to have them in your home."
Entertaining ideas
When he was asked to write his first book for Tiffany, "The New Tiffany Table Settings," in 1981, Loring said, his research showed how much our attitudes toward entertaining had changed.
"The old-fashioned ideas communicated in books and articles on entertaining used to be a countdown to disaster," he said. "There was no way you could live up to this ideal, and you were going to feel inadequate, no matter what."
"There were so many rules - the number of pieces of silverware and glass and dishes and where each had to go - it was like hieroglyphic table setting," Loring said.
Today, he said, entertaining should be simple, graceful and comfortable. Guests should be offered good food, in small quantities, that's easy to eat.
Loring sees guests at a party as being part of a play. "They want to talk to and be with each other and not to fight with chicken bones or anything like that."
Loring and all four Hawai'i women reject the 1980s "buy your way out" form of entertaining in which a caterer does the work. "It wasn't fun and it didn't reflect anything about who you were," Loring said.
However, none believes that one person should try to do all the cooking and serving and cleanup. Draft family or friends, hire a neighborhood teenager.
Guest list
The most important element in successful entertaining is the guest list. "It must be well thought-out. Which of my friends will enjoy each other?" Loring said.
He recommends inviting someone no one else knows, to make the evening more interesting. He also suggests mixing the generations. He often has people in their 20s help with serving, then join the guests.
Thacker enjoys inviting young children to her parties. She offers an after-dinner activity, such as painting martini glasses, in which all ages can participate.
Loring recommends that guests not be encouraged to change places between courses: "Never leave the table. It completely destroys the conversation and atmosphere. It breaks the momentum and sends people home."
Best of New York
Loring seeks people in his New York City neighborhood who do one thing really well: the guy on the corner who makes the best creme caramel, the woman in the Thai restaurant whose yellow rice is better than anything he could make himself. Then he incorporates these into his menu.
Glaser searches for the finest cheesecake available, then puts her own finishing touches on it with fresh berries or a homemade coulis. Eldridge doesn't enjoy baking, so she buys rich brownies and adds her own mango sauce.
Loring does not pre-set his menus. He goes to the market the morning of the party to see what's good and fresh.
Table settings
It's no longer necessary, or even desirable, to have everything match on a table. Often, Loring said, the more casual the setting, the more beautiful it is.
A variety of dishes, glassware, and even candlesticks can make a table more interesting and inviting. When actress Joanne Woodward created a table setting for one of Loring's books, she said, "My grandmother told me that people who had things that match had no background."
Centerpiece savvy
Centerpieces are increasingly imaginative. In Italy, a ceramic bowl filled with lemons is a beautiful accent. In France, colorful vegetables such as eggplant, artichokes and peppers replace traditional flowers. To add drama, these can be contrasted with delicate flowers, such as poppies or tulips.
"Hawai'i has added a great deal to the table with all the lovely exotic flowers that are available all over the world now," Loring said.
Some centerpiece ideas from the group:
Glass bowl filled with coconuts
Pine cones strewn down the middle of the table
Brass bowls filled with lemons
Apples and/or walnuts sprayed with gold paint
Ti leaves, ferns and free, gathered leaves
Philpotts often finds ideas in the visual merchandising of stores like Neiman Marcus.
Make magic
"Imagination is a great ingredient in entertaining. Everything is possible at a party," Loring said.
Lighting is important. Candlelight, of course, helps create a magical mood. Loring likes to place candles in unexpected places, such as atop bookcases.
Pinkish lighting makes everyone look softer and more beautiful. Philpotts changes all the bulbs in the house to 40-watt pink bulbs before a party.
Loring summed it up: "A party should, above all, reflect the nice things your friends like about you."