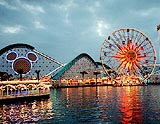 Visitors who paid $43 each for the privilege last night enjoyed the midway-style rides at Disney's new theme park, California Adventure. The $1.4 billion, 55-acre park opened yesterday next to the original Disneyland in Anaheim, Calif. Disney chief executive Michael Eisner greeted guests at an opening ceremony. The park was filled to its 33,000-person capacity by yesterday afternoon.

Associated Press
Hawai'i insurance costs continue to decline
The overall costs of insurance for Hawai'i's drivers, homeowners and businesses continue to fall, despite signs that rates may be on the rise again, the state's chief insurance regulator said.

Offer for TWA met with doubt
Analysts expressed skepticism yesterday that an Arizona investment group's planned $1 billion cash offer for Trans World Airlines Inc. will succeed.