By Vicki Viotti
Advertiser Staff Writer
Forget the cast of that TV show. Anthony Allen, runaway slave and the first black to arrive on Hawaiian shores, is the true "survivor."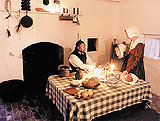 Anthony Allen, the first black in Hawai'i, is the subject of a Mission Houses pageant.

Mike Dunn

Deborah Dunn, executive director of the Mission Houses Museum, is impressed with the life story of someone who went from slavery to a new world. She read with fascination Allen's own accounts of escape from New York, his travels as a ship crewman and especially his rise to prominence as a farmer in Hawai'i, helping the missionaries keep their own bodies and souls intact.

"I believe he kept them alive," Dunn said. "He was generous with his food. ... The things he talks about, it feels like a movie!"

There's no time like the present to enlighten the rest of Honolulu about its former citizen, especially because it's Black History Month. So, as it has in past years, the museum will spotlight the Islands' most celebrated black residents in a free hourlong historical pageant tomorrow and Feb. 17 (see box).

Eddie Croom, curator of the Honolulu Police Department museum, will appear as Allen. It was a role he first played in the museum's 1999 Mission Houses Christmas pageant; he spent the following year developing a monologue for the production that premieres tomorrow.

'Tea with Anthony Allen and Betsey Stockton'

10 a.m. tomorrow and Feb. 17

Mission Houses Museum

Free
531-0481

"I enjoy playing this particular individual because of what he did, because he did make a difference," Croom said. "He made a difference in the lives of a lot of people."

The other principal character, missionary Betsey Stockton, will be played by Maryanne Saunders, an 'Iolani Palace docent.

Stockton, who was a freed slave when she arrived in 1823, was an enthusiastic educator, Saunders said, and was frustrated only because her more servile duties in a mission household usurped some of the time she had for the teaching she loved.

"She was between rock and hard place,"she added. "She was a missionary, but she was classified as a servant. She wasn't able to devote all of her time to her missionary work."

Stockton spent only two years in Hawai'i before advancing to mission work elsewhere around the globe. Allen, however, settled here in 1812 and remained for the rest of his life.

After he fled his slave master, Croom said, Allen worked on cargo ships and met someone who agreed to pose as his owner and acquire his release papers in exchange for a period of servitude. The papers allowed him to travel and, when one journey took him to Hawai'i, he decided to stay and asked for his release from the crew.

In the Islands, he first worked about ships traveling between islands, and soon found himself serving as steward to King Kamehameha the Great. The king rewarded him with a land grant; Allen's property was located near the current Washington Intermediate School campus. Eventually, he married two Hawaiian women concurrently and fathered three children.

The crops raised on his farm helped sustain the Bingham missionary family, Croom said, although they were unable to repay the favor with baptism.

"Reverend Bingham had indicated how many times he had tried to change his sinner ways!" Croom said with a laugh.

Later, Allen established a hospital and cemetery for sailors who, often, were abandoned in Hawai'i, untended. These works were rare achievements by a black man of the 19th century.

"A slave's ability to do anything other than work for his master was nonexistent, and he rose far above that," Croom said.