By Wayne Harada
Advertiser Entertainment Editor
Jefferson Starship, the seminal psychedelic rock band from San Francisco with roots as Jefferson Airplane, will return to Hawai'i for a concert at 7 p.m. Feb. 23 at the World Cafe, 1130 N. Nimitz Highway.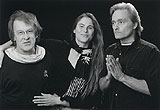 Some members of the band include, from left, Paul Katner, Diana Mangano and Marty Balin.

Mike Thut

Doors open at 6 p.m.

The group, born of the era marked by civil rights activism, the Vietnam war and the drugs and hippiedom of Haight-Ashbury, helped define the psychedelic culture with appearances at the Monterey Pop, Woodstock and Altamont music festivals.

Over the years, the group logged a string of hits, including "White Rabbit," "Somebody to Love," "Volunteers," "Miracles," "Count on Me," "Ride the Tiger" and "Hearts."

Members also have changed. The current act features original members Paul Katner and Marty Balin, plus Diana Mangano, Slick Aguilar, Prairie Prince and Chris Smith.

Tickets: $17.50 in advance ($20 at the door), on sale at 10 a.m. tomorrow at Tower Records and Video locations, World Cafe, the Blaisdell Center box office and all Ticket Plus outlets.

Phone charges: 526-4400.