By Dennis Anderson
Advertiser Staff Writer
Mele French had a goal and an assist as Mililani surprised third-seeded Punahou, 2-1, last night in the quarterfinals of the 20th annual Meadow Gold Girls State Soccer Championships at Waipi'o Peninsula Soccer Park.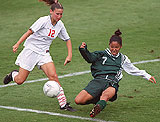 Hawai'i Preparatory Academy's Ella Bernstein, left, and 'Aiea's Jodie Unten race for a loose ball along the sidelines at Waipi'o Peninsula Soccer Park.

Eugene Tanner • The Honolulu Advertiser


The Trojans, who improved to 12-1-1, will play second-seeded Pearl City in a semifinal game tonight at 7:30 at Aloha Stadium, where the rest of the tournament will be played.

Jolie Nitta punched in the go-ahead goal from inside the goalkeeper's box 4:57 into the second half after taking a sharp cross from French deep on the left side.

French scored the first goal on a breakaway 6:18 into the game.

Punahou, which fell to 9-1-3, scored to tie the game at 1 at 33:47 on a 30-yard free kick by Tiffany Taylor from outside the penalty area on the left.

Mililani controlled the second half, getting seven shots to one for Punahou.

The Buffanblu led in first-half shots, 6-3, but Mililani goalkeeper Eryn Kishimoto made four saves, two of them spectacular.

Mili-Mele French 6:28, Jolie Nitta 44:57. Pun- Tiffany Taylor 33:47.
Baldwin 5, Kailua 3: It took four goals by 2000 Player of the Year Nicole Garbin for the top-seeded Bears to rally three times and make it to the semifinals.
Baldwin improved to 13-0 while Kailua dropped to 10-3-2.
Garbin's fourth goal, at 71:55 after a cross from Shawna Shimamura in the corner, put Baldwin ahead for the first time, 4-3.
She also scored a long goal at 6:25 to tie the score at 1, on a penalty kick at 38:30 to tie the score at 2, and beat the goal keeper at 57:01 to tie it at 3.
Sarah Takekawa put Kailua ahead 1-0 at 5:29, and 3-2 at 55 seconds into the second half.
On the go-ahead goal, Shimamura took a throw-in from Alana Souza with about nine minutes to play and beat a defender to the corner when she saw Garbin and Kami Kapak in front of the goal. "I put it in the air and Nikki volleyed it in," Shimamura said.
The tying goal came off a perfect cross from Kapak on the right wing, to Garbin, who was streaking down the middle toward the penalty area. "She was waving her hand and yelling for the ball. I just tried to get it to her and it went perfect," Kapak said.
Garbin received the ball in space; the goalie came out and Garbin beat her to the left corner from 10 yards.
"After we tied them, our momentum was there. I had the feeling inside we would win," Kapak said.
Baldwin took 18 shots to Kailua's 10. Surfrider goalkeeper Crystal Akana made nine saves, including four that preserved the 3-3 tie for almost 15 minutes.
Kailua's three goals equaled the total that Baldwin gave up to Maui Interscholastic League opponents in 12 games.
Bald-Nicole Garbin 4 (6:25, 38:30, 57:01, 71:55), Mellissa Petro 73:44. Kai-Sarah Takekawa 2 (5:29, 40:55), Pilialoha Afong 34:56.
Pearl City 3, Kahuku 0: The Chargers left no doubt this time.
Last week they needed two overtimes before they dealt the Red Raiders their first loss of the season, 3-2, in the O'ahu Interscholastic Association semifinals.
Last night, the Chargers efficiently converted three of 10 shots, including a penalty kick by Shayna Egloria, who scored twice.
Pearl City improved to 12-1 while Kahuku dropped to 11-3.
Kahuku took 21 shots, and Paratina Questal, Pearl City's freshman goalkeeper, had nine saves.
"We knew that to win we had to stop Natasha Kai and keep their fullbacks wide so we could get the ball into the box," Pearl City assistant coach Frank Baumholtz said. "Both strategies worked. With a defender marking her in front and a sweeper behind, Kai could not get clear shots."
Pearl City's first goal, 3 minutes into the second half, came when Nicole Johnson made a cross from the wing to Egloria coming across the box from the back side, and Egloria one-touched it in.
Egloria added a penalty kick at 66:51, and Kory Ann Toyama scored the third goal in the final five minutes. She brought the ball into the middle, kicked with her outside right foot, and bent it around the goalkeeper.
P.C.-Shayna Egloria 2 (43:29, 66:51 (PK)), Kory Ann Toyama 75:24.
Hawai'i Prep 2, 'Aiea 1: For three years, the nine seniors on Hawai'i Prep's team had trekked to O'ahu for the state championships, only to get shunted to the losers' bracket on the first day.
Yesterday, in their final chance as high school players, Ka Makani won in a shootout to make it to the semifinals for the first time.
Hannah Hind, who couldn't play until the shootout because stress fractures forced her left foot to be encased in an air cast, made the kick that gave HPA an insurmountable 5-3 lead in the shootout.
HPA improved to 12-1-0 while 'Aiea fell to 11-3-1.
"It was meant to be," Hind said. "I knew when I went out to kick. It had never gone our way in the past, but we were playing so unbelievable today that I started crying on the sidelines in the middle of the game."
HPA took 19 shots to 'Aiea's 10 in the 100 minutes of regulation and overtimes, but Na Ali'i goalkeepers Diane Shiroma and Chanelle Takemoto made 12 saves.
HPA-Cobey Ackerman 27:30. PKs: Mahea Crossley, Jaime Wakefield, Jiselle Yates, Tiana Maple, Hannah Hind. 'Aiea-Lynnsey Ho 37:34. PKs: Jodie Unten, Joelle Sugai, Randene Ako.