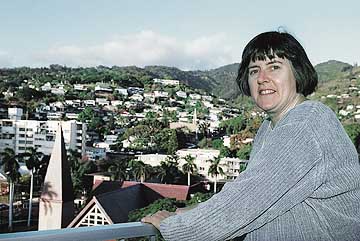 Honolulu writer Kathleen Norris says the Book of Psalms helps her deal with life's sufferings, solace and joy.

Gregory Yamamoto • The Honolulu Advertiser

By Mike Leidemann
Advertiser Staff Writer
Writer Kathleen Norris finds spirituality wherever she goes: In a farm community in South Dakota. In a seemingly secular poem. On a subway in New York City. In a Makiki high-rise.
22nd annual Britt lectures
With Kathleen Norris, Honolulu author of "Dakota," "Cloister Walk" and "Amazing Grace"
7 p.m. Friday, Saturday and Sunday
First United Methodist Church, 1020 S. Beretania St.
Lecture schedule
Friday: "Accidents Do Happen, But Where Is Healing?"
Saturday: "Where Is Solace in a World of Suffering?"
Sunday: "Where in the World Is Joy?"
Also: a free workshop at 9 a.m. Monday titled "John Wesley and the Monastic Tradition: A Return to Roots"
All events are free. Advance registration is required only for the workshop
Information: 536-1865

"I get up early and listen to the sirens and the silence," Norris said. "You can hear the spiritual resonance in both."

Born in Washington, D.C., and raised in a sheltering Honolulu family, she graduated from Punahou, came of age as a poet in New York City, retreated to a family homestead in South Dakota and eventually became an unlikely best-selling author.

Now she is poised for another round of change.

This weekend at First United Methodist Church, Norris will deliver the 22nd annual Britt Lectures, talking about the power of the Psalms. In April, her new book, "The Virgin of Bennington," will be released. At the same time, a new book of poems will appear, along with a reissue of "Dakota," her personal story of discovering the sacred bond between one's land and one's soul; the book has sold more than 200,000 copies. A nationwide book-signing tour is planned.

Through it all, Norris remains grounded in her faith. She and her husband, poet David Dwyer, spend half the year in their condo overlooking Makiki Park, riding TheBus, attending the Punahou Carnival, enjoying all the quiet pleasures of the communal life not unlike those they enjoy the rest of the year in South Dakota.

"Can you believe that malassadas still cost 25 cents at the Punahou Carnival? The price hasn't changed since I graduated in 1965," she said.

Norris' new book is part coming-of-age memoir and part biography of her best friend and mentor, Betty Kray, for whom Norris worked at the Academy of American Poets in New York during the turbulent 1960s and 1970s. It traces Norris' growth from a shy Punahou graduate to a promising urban poet and her eventual landfall in South Dakota.

"Dakota," which began as a series of essays on her life in the upper Midwest, catapulted her from an isolated, rural existence to the New York Times best-seller list. She followed the effort with two more personal books, "The Cloister Walk," which details her experiences visiting Benedictine monasteries, and "Amazing Grace: A Vocabulary of Faith."

Critics have praised the works for their self-searching honesty, lyrical insights and absence of self-conscious piety and jargon. Mirabella magazine called her the thinking woman's prophet, who "charts her own course — one that is personal, liturgical and beautifully plainspoken."

The new book takes the same tone, talking frankly about Norris' own sexual and intellectual awakenings as a student at Bennington College in Vermont, as well as evoking a particular place and time, the literary world of Manhattan in the early 1970s.

"I carried the stories around with me for many years, and it is a relief to finally tell them," Norris said.

Although Norris fell away from the spiritual path for many years, religion has deep roots in her family. Her father, the well-known trumpet player John Norris, is the son of a preacher who has directed church choirs from Virginia to Honolulu. Her brother, John, is a minister in Honolulu and a former head of the Hawai'i Council of Churches. His wife, Marilyn Watts, also is an Episcopal vicar at a church here.

Now, Kathleen Norris is squarely back in the fold, too; she's eager to share her rediscovery of the spiritual values that she finds all around her.

In South Dakota, that spirit is grounded in the wide-open landscapes, as well as the Christian community of her grandparents' home church where she for a time ministered, and the monastery where she is an oblate — one who is accepted within the walls to share in worship and prayer, but who has not become a monk.

In Honolulu, Norris sees the same spirit in the ocean, as well as the conversations with strangers at bus stops. Both places share a sense of isolation, a loss of their young people to other places, a misunderstanding by outsiders and an overwhelming friendliness among those live there. In a bigger sense, these are qualities you find everywhere, Norris said.

"My books must have really hit a nerve," she said. "People from all over, different parts of the country, say I've really described their situation."

While Norris can find comfort and spirituality almost anywhere, she repeatedly returns to the Book of Psalms, the poetry of the Bible.

"The stories are thousands of years old, but they still work," said Norris, whose lectures this weekend will discuss how the Psalms can help deal with life's suffering, solace and joy. However, she admits they might not be the most popular form of spiritual discovery these days.

"But in times of crisis, you can always find something appropriate in the Psalms," she said. "If you don't find what you want or can understand in one, just go to the next one. The whole of human psychology is in there."