By Joan Namkoong
Advertiser Food Editor
Today is the day for a little chocolate indulgence. It will make you feel good and maybe a little romantic on this day when Cupid plays.
More than 35 million heart-shaped boxes will be sold for Valentine's Day gifts this year; that's $1.2 billion in sales of chocolate and candy, according to the Boxed Chocolate Manufacturers. Caramel is still America's favorite chocolate filling, followed by nuts, truffles, cherries and flavored creams. Younger buyers prefer dark chocolate over milk chocolate.
Besides a little romance, there are other reasons to indulge. Chocolate contains a number of natural stimulants, such as theobromine and theophylline, that boost alertness and prevent fatigue. Magnesium in chocolate can calm you down. Anandamide, found in chocolate, is a substance produced naturally in the brain that makes you feel good. There are also antioxidants in chocolate, substances that may help discourage heart disease by preventing the arteries from clogging. Stearic acid, a substance that keeps cholesterol levels low, is also found in chocolate.
A healthy food, chocolate is. Until, of course, you realize that it contains 150 calories per ounce, almost two-thirds of which is pure fat.
But it is Valentine's Day, after all. So we've scoured the town to determine our favorite chocolate morsels (somebody had to do it!) as suggestions for what to give on this special day.
Morsels of love

1. Nori's Chocolate Mochi Cookies: Thin crisp wisps of chocolate mochi, not too sweet and highly addictive, with mini-chocolate chips sprinkled in. A creation of Bethan Nishijima of Nori's in Hilo; hand-carried from Hilo weekly; $7.99 for a 6-ounce bag at Pat's Island Delights. Chocolate mochi cake will also be available today.
2. Chocolate-filled hearts from Godiva: $33 per pound, about $1.65 for two pieces at Godiva boutiques, Ala Moana Center, Kahala Mall and Waikiki. Godiva is also available at Liberty House stores.


3a. A double chocolate whammy: Dark, milk and white chocolate-covered Oreo cookies, $3.40, Honolulu Chocolate Co., Ward Centre.

3b. Graham crackers dipped in chocolate, perfectly crunchy and even more perfect with a layer of peanut butter. $1 and $2.25, Honolulu Chocolate Co., Ward Centre.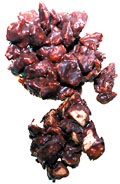 4. Philippe Padovani's Macadamia Nut Lava Rock: Finely chopped macadamia nuts in dark chocolate - is a textural delight. $1.25 apiece, R. Field at Foodland Beretania. Also at Padovani's Bistro and Wine Bar, and Neiman Marcus.

5. The classic After Eight mint: Thin dark chocolate with a refreshing mint interior. It's a mint we've loved forever. $5.59 for 8.75 ounces, R. Field at Foodland Beretania.

6. Laderach dark and milk chocolate truffles: The Swiss chocolatier makes a snappy outer coating and soft, unctuously creamy filling. $53 per pound, about $2.65 for two pieces, Neiman Marcus; $1.25 apiece, R. Field at Foodland Beretania.

7. Scotchmallows: A perennial favorite from See's Candies, with layers of caramel and marshmallow enrobed in chocolate; $1.38 for two pieces.