By Sean Nakamura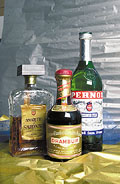 Amaretto Di Saronno, Drambuie and Pernod are popular after-dinner spirits. They are crafted into a distinctive liqueur with the addition of flavoring agents, which may include any of a number of herbs, seeds, fruits, nuts, spices and flowers.

Richard Ambo • The Honolulu Advertiser

Many diners do not call a meal complete until they have had a wondrous dessert to cap off their gastronomic dining adventure; something small, sweet and decadent. But we often forget about the wide range of wines and spirits made specifically to pair perfectly with our meal-ending treat. These after-dinner drinks, too, are usually smaller in portion, deliciously sweet, and share a rich history of methodical and time-consuming production. While we seductively gaze into our Valentine's eyes, let's contemplate some of the many possibilities.

Dessert wines are an obvious option. These wines are usually lusciously sweet with rich, ripe fruit overtones, often with hints of honey and dried fruit. The production methods used in the making of these wines are diverse but share the need for ideal growing conditions and extremely low yields per acre. Consequently, these wines are some of the most expensive you will find on the market.

In choosing a sweet dessert wine, look for terms such as late harvest (grapes picked late in the season when the fruit is very ripe), botrytised (naturally exposed to a special mold which encourages the production of dried concentrated grapes), or eiswein (grape frozen on the vine, then pressed, concentrating sugar and flavor).

Port and other similar sweet, fortified wines are also alternatives (fortified means extra alcohol has been added during the production process). Ports, which are gaining in popularity as the cigar and fine-wine crowd learn more about them, are known for their complex character and age worthiness, the result of inherent high alcohol and sugar content.

Vintage ports (the Portuguese government declares certain harvest years special because of high quality of grapes) are the best and most expensive - in fact, some of the most expensive wines in general. While these are not in the budget of most diners, nonvintage ports of various grades are available, sharing many of the same fine qualities. Ports can be enjoyed with a wide range of desserts, but are classically paired with cheese and nuts in a course after dinner and before dessert.

After-dinner spirits, also known as liqueurs and cordials, are numerous and wide-ranging. Most are characterized by high sugar content, each crafted into a distinctive liqueur with the addition of flavoring agents, which may include any of a number of herbs, seeds, fruits, nuts, spices and flowers. Nearly all countries that produce liquor will create some complementing sweet spirit that falls into this category.

With its rich history, France produces some of the best-known proprietary names among liqueurs. Some of these liqueurs have origins dating back more than 300 years with recipes held as trade secrets through many years of attempted duplication.

Benedictine, an herbal French liqueur, was produced in 1510 by monks as a cure for fatigue and illness. To this day, the recipe for Benedictine is one of the most closely guarded formulas, with only three people knowing the entire production process involving more than 27 ingredients and numerous individual procedures.

Chartreuse, another herbal French liqueur originally produced by monks, comes in two types: the lower-alcohol, sweeter, yellow version and the higher-alcohol, drier, green version.

Both are said to have restorative and aphrodisiac qualities.

Other popular French liqueurs include:
Chambord; a light grapey liqueur made from black currants.
Pernod, an anise-flavored liqueur with an unusual green hue that turns cloudy with the addition of water.
Grand Marnier and Cointreau, intensely flavored orange liqueurs of two very different styles.
Italy, also known for the pairing of food and spirit, is another country with a rich tradition in the production of liqueurs.
Sambuca, one of the most well known of the Italian liqueurs, is a type of extremely popular anise-flavored after-dinner selection. Made under many proprietary names, it is always served with the addition of three coffee beans for good luck.
Amaretto, and specifically the Di Saronno labeling, is another famed Italian creation, this one an almond-flavored liqueur made primarily from fruit pits.
Frangelico (hazelnut), Galliano (vanilla-anise) and Tuaca (vanilla-butterscotch) are other favorite Italian selections.
Many other countries produce liqueurs and cordials, although production may seem limited compared to the multitude of French and Italian varieties. Most of these selections are meant to complement the primary production of a spirit in the country.
Drambuie is an prime example, with a honey and herb mixture added to Scotch whisky. Other examples include Bailey's Irish Cream, Kahlua from Mexico and Tia Maria from Jamaica.
Any of these liqueurs would be excellent with dessert or while lounging in a romantic post-dinner setting. All can be sipped straight or served over ice, maybe accompanied by a rich cup of coffee. Used in cocktails, liqueurs can even replace dessert as a finale for dinner.
These chocolaty nightcaps can warm up a chilly Hawaiian evening for your special Valentine.
Warm Snuggle
1/2 oz Frangelico
1/2 oz Tuaca
Hot Cocoa
Whipped cream or foamy steamed milk
Combine ingredients in coffee mug or cappuccino glass and top with whipped cream or foamy steamed milk.
Hot Cocoa for Two
3 tablespoons cocoa powder
2 tablespoons sugar
1 1/2 cups milk
1/2 cup half-and-half
Heat in sauce pan until combined and just boiling.
Sean Nakamura can be seen behind the bar at Alan Wong's restaurant.