By Joan Namkoong
Advertiser Food Editor
Strawberry Connection moving
Strawberry Connection, the specialty produce and grocery store in the Kalihi industrial area, is having a moving sale, with everything at least 35 percent off through the end of the month.
The present location will close at the end of the month. Owners Becky Choy and John Stoudt are moving the food emporium to Dole Cannery and anticipate a mid-April to May opening. The new store will be slightly smaller but air-conditioned, and it will stock popular items and specialty food products.
Pillsbury contest seeks young chefs
Young chefs, 9-18 years of age, can enter Foodland's Pillsbury Kids Bake-Off Contest. Recipe categories are Easy Meals, Appetizers and Side Dishes, and Desserts and Sweet Treats and must include one ingredient from Pillsbury, Green Giant, Hungry Jack, Progresso or Old El Paso brands. Recipes will be judged by a panel of local chefs and home economists on appetite and visual appeal, creativity, ease of preparation and use of Pillsbury products.
Thirty semifinalists in two divisions - ages 9-13 and 14-18 - will be chosen for a bake-off at the Hawai'i Prince Hotel Waikiki on March 24. A grand prize winner from each age group will be chosen and will receive a $500 savings bond and Shop for Better Education points equivalent to a computer for the winners' favorite school.
The grand prize winner of Division I (ages 9-13) will also participate at the National Pillsbury Kids Bake-Off Contest finals at SeaWorld Orlando, June 15-19, with a chance to win $25,000. The trip will include round-trip airfare for four, hotel accommodations, meals and Sea World Park passes.
Entry forms for the Pillsbury Kids Bake-off Contest are available at all Foodland and Sack N Save stores. Entry deadline is Feb. 21.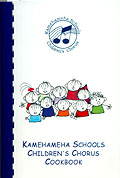 Kamehameha selling cookbooks
Friends, family and staff of the Kamehameha Schools Children's Chorus have created a cookbook of favorite recipes to support the activities of the 113-member student group. Fourth-, fifth- and sixth-graders make up the chorus, led by Laynell Bright; the group performs at various community venues. This year they will be traveling to Hiroshima, Japan, to perform at the Peace Memorial.
The community cookbook includes lots of recipes for local favorites; some interesting recipe titles include Nonoi's Inside-Out Tuna Musubi, Peanut Butter Noodles and Hoisin Baked Beans. There are more than 200 recipes in the spiral-bound book.
The book is $13, including shipping and handling, and can be ordered by sending a check to: Kamehameha Schools Children's Chorus, attention Laynell Bright, Kamehameha Schools, 225 Bishop Circle, Honolulu, HI 96817.
Students preparing 'sweetheart buffet'
The Culinary Institute of the Pacific's Leeward Community College advanced culinary students are serving lunch in The Pearl Dining Room, 11:30 a.m.-1:30 p.m. Wednesdays to Fridays through April 27.
In celebration of Valentine's Day, a "Sweetheart Buffet" will be featured tomorrow and Friday at $15 per person. Students in the Advanced Culinary class prepare and serve the luncheon menus under the direction of chef instructor Rodman Machado. 455-0475.
Garden Cafe to reopen in May
A sneak preview of the new Garden Cafe at the Honolulu Academy of Arts is making me anxious. The outdoor dining area is lovely (how come we don't have more outdoor venues for dining in the Islands?) and no doubt chef Mike Nevin's menu will be dazzling.
Nevin, the former proprietor of the demised Napa Valley Grocery and Il Fresco restaurant (oh, how I wish these two places still existed!) is anxious, too, awaiting the day he can cook in a real and new kitchen instead of the makeshift one he's used during the academy's renovation. We can hardly wait for the May opening.
Hillshire searching for family recipes
Hillshire Farm is searching for family recipes that use one of its products in its "In Search of Great American Meals" recipe contest. Grand prize is $10,000 in cash for an original, tasty recipe that can be prepared in fewer than 30 minutes. Entrants must also tell the story behind the meal and why the recipe is special to their family.
For complete contest rules, visit www.hillshirefarm.com or call 1-800-406-5553. Entries must be sent by U.S. mail to Hillshire Farm Recipe contest, P.O. Box 25233 Cincinnati, OH 45225 and be postmarked no later than April 30.
Quick Bites appears every Wednesday in The Advertiser food section. Food Editor Joan Namkoong welcomes tidbits of food news .Write to her c/o The Honolulu Advertiser, P.O. Box 3110, Honolulu, HI 96802. Call: 525-8069. Fax: 525-8055. E-mail: islandlife@honoluluadvertiser.com