By Joan Namkoong
Advertiser Food Editor
The California strawberry season has begun and so has the 'Ulupalakua, Maui, season. Farmer Roy Hamamura's crop of fresh-picked, ripe strawberries, can be found at Star Markets and Daiei. Yes, they will be more expensive than the California variety but will no doubt be tastier, because Hamamura can pick them at their prime. Hamamura, a former California strawberry farmer, has been growing strawberries for a few years in the cool uplands of Maui. A good crop is expected through April.
Seasonal apples
There's nothing like a crisp, crunchy, juicy apple - by itself, in a mix with other fruits or with a piece of cheese. Two varieties are coming into season in our markets this week. The Pink Lady with its rosy blush on a light green background is quite a darling, crunchy and sweet when it's grown in the Central Valley of California. But a Pink Lady from the Cuyama Valley, east of Santa Barbara, can be a bit of a tart apple that leaves a sweet aftertaste.
Fuji apples from the Aomori prefecture of Japan can be found in most supermarkets this week, a crisp, sweet variety that originated in the area. Farmers nurture their trees, pruning them so that they produce fewer but bigger fruit, according to Ronald Yamauchi of S. Yamauchi Produce. Aomori apples are a bit more expensive than other apples in season but well worth the crunch and flavor.
More on oats
Last week in this column we talked about steel-cut oatmeal and mentioned the McCann's brand. It is available at Foodland, Star Markets and Strawberry Connection. A thrifty reader e-mailed us to let us know that bulk steel-cut oatmeal is also available at health food stores; Down to Earth and Kokua carry the bulk oats for less than $1 per pound.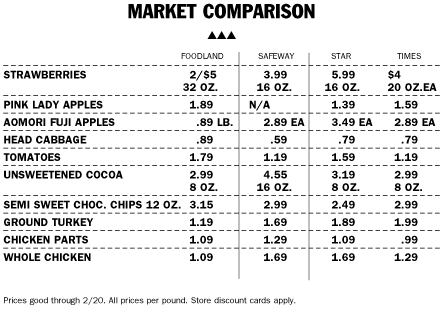 Send shopping queries and new product information to: Market Basket, The Honolulu Advertiser, P.O. Box 3110, Honolulu, HI 96802. Fax: 525-8055. E-mail: islandlife@honoluluadvertiser.com. Or call: 525-8069.