Bacteria and rancid oils lurk in stale cosmetics
Tools of the makeup trade
By Paula Rath
Advertiser Island Style Writer
Following the Asian tradition, the turn of the year in Hawai'i is often the time for the annual cleaning: Floors are scrubbed, windows washed, cupboards and closets culled and cleaned.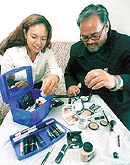 Makeup artist E'Jay Maldonado visited Waikele resident Michele Wolf at home to help her clean out her cosmetics case. Outdated makeup, dull pencils and visible metal are among the potential health hazards lurking in women's cosmetics kits.

Deborah Booker • The Honolulu Advertiser

But there's one area women often overlook: the cosmetics kit (or drawer or shelf). It's just as important to sanitize the stuff that will go on skin and near eyes as it is to clean the clothing and home. Outdated, adulterated makeup can cause infections and reactions.

For tips on how to approach the task, Island Style asked E'Jay Maldonado, lead makeup artist and trainer at Sephora, to give us a demonstration by visiting Michele Wolf, a Waikele mother of two who admitted she hadn't dug out her makeup kit in some time.

Maldonado has worked in the cosmetics business for 25 years and has trained personnel in nearly every line of cosmetics in Hawai'i.

There are no expiration dates on cosmetics, though some think there should be. That's in part because there's a big difference between the shelf life of a product that's sealed versus one that's opened and used.

When he's doing makeup for clients, Maldonado sanitizes brushes and cleans jars and lids after every use, but he said that's overkill if you're the only one using a makeup kit.

Initially Maldonado offered Wolf general guidelines for when to get rid of old products.

"If you can see the bottom of the container, you might scrape the bottom, releasing metal particles onto your tool and into your eye. It's not worth the risk," he said. "When you see the labels start to disappear, the inks could come off onto your fingers and get mixed with the product."

It helps to mark products with the date of purchase, with a waterproof pen or a label.

Sensitive eyes and lips

Since the eyes and lips are the most sensitive parts of the face, Maldonado began with them.

He noted that many of Wolf's eye and lip pencils were dull. "It's important to keep pencils sharp," Maldonado said. "You need to add a quality sharpener to your kit. If the pencil splinters, it can cause a cut and resulting infection."

A gentle twist should suffice to sharpen a pencil. Pressing hard means wasting product. Pencils contain wax, and when the product ages, the wax softens, like a candle. Putting a pencil in ice water will harden the wax, making it easier to sharpen.

Mascara past its prime can cause lashes to fall out. It takes six months to grow back a lash.

Mascara should be changed at least every 3 to 4 months. How to recognize when it's ready to toss? It will start to smell like shoe polish.

Maldonado said most women apply too much mascara: "One run will do for day, two for evening and three for a night on the town."

Some of Wolf's eyeshadows are water-soluble, designed to be applied either with a wet or dry makeup brush, as eyeliner or shadow.

Maldonado advised her to draw a line between the portions to be used wet and dry and keep them separate. In damp environments like Hawai'i's valleys, these pots can become ice-skating rinks for bacteria, Maldonado warned.

Foundation hints

The face's own oils can cause foundations to change color and texture.

Wolf's foundation in a compact can be used wet or dry. However, with age, it built up pigment and became darker. It now appears flat and opaque when applied to her skin.

To achieve the fresh, dewy look so popular today, Maldonado advised Wolf to apply her foundation over her moisturizer with a large powder brush for a smooth, lighter application.

He advised Wolf against sponges because they use up too much product: "With a brush, there's less product on the implement and more on the skin," he said.

Makeup brushes should be washed every week. Maldonado uses Awake brand brush cleaner because it's a spray-on, quick and easy. Gentle shampoo also works well. Brushes should be allowed to dry all around. Placing the bristles over the edge of a counter will allow air to circulate around them.

If using a sponge to apply makeup or smooth or blot, it's important to wash it every three days with plain water or a mild facial cleanser.

Powders grow the least bacteria, so their shelf life is longer. Once opened, they should be good for up to a year.

Sticky lipstick issues

Due to their formulations, lipsticks can have a shelf life of up to two years. However, they are influenced by the environment, especially light and temperature, which can cause color and texture changes. (Anyone who has left her purse in the car with lipstick in it knows they can also melt into grotesque messes.)

Ever wonder why women no longer blot their lipstick like Mom used to? Modern lipstick formulations have less wax and pigment than Mom's did.

There are many choices in formulations, so it's important to try several until you find one that works. Then try layering it to see whether it's prettier with one layer or more.
Tools of the makeup trade
E'Jay Maldonado swears by these tools:
Anna Sui pencil sharpener: Allows for three thicknesses, including the thick eye/cheek/lip pencils popular now. It also comes with its own cleaning stick. Available at DFS Hawaii, Neiman Marcus and Sephora.
Disposable spoolies (brush applicators) will prolong the life of mascara by keeping it sanitary and bacteria-free. At Longs Drugs or most cosmetics counters.
His favorite foundation/powder brushes: Trish McEvoy's at Neiman Marcus, and Vincent Longo's at Sephora.
Awake brush cleaner to spray on and tissue off, at Neiman Marcus.
Shiseido Pureness Gentle Cleansing Sheets, made of pure cotton with no alcohol or oil, can be used for any cleaning job, on the face or in the kit, at Shirokiya, Liberty House and Sephora.