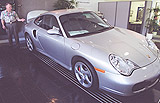 Jim Jacobson of TheoDavies Porsche in Honolulu points out a Porsche 911 turbo model. Garry Brechin, general manager of TheoDavies said he usually averages about five orders per year for turbos, but already has orders for 12.
Cory Lum • The Honolulu Advertiser
Porsche getting a boost from weak euro
Few European companies may be better positioned to take advantage of the weak euro than Porsche, the famous sports-car maker.

Diverse strategy gives Porsche product development edge
Vendors gear up for mobile bug invasion
Computer viruses aren't just for personal computers anymore. Now, mobile devices such as hand-held computers and cell phones are at risk.