Gannett News Service
The latest hot-to-heist item isn't a hood ornament or a laptop computer.
It's spandex. Yeah, the stuff of which disco dreams are made.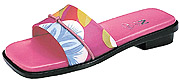 Lycra, the hottest good on the garment black market, is raw material for shoes, too.

Gannett News Service

Gangs of thieves are stealing the stuff from warehouses in Los Angeles' garment district and selling it on the black market at a rate that has the industry reeling and L.A. cops fuming.

It's unlikely DuPont chemist Joe Shivers would have dreamed the fiber he created in 1958 (known as Fiber K back then) would become a black-market commodity.

Today, Lycra has several competitors, but the DuPont brand of spandex is still considered the gold standard, selling for $9.50 per pound, almost twice the price of other brands.

And it's the Lycra the thieves are after, says Richard Rengers, logistics manager for DuPont's warehouses. "They leave the cheap stuff and go after the expensive stuff."

In the past year, an estimated $2 million worth of spandex has been pilfered from the factories and warehouses that support Los Angeles County's $11 billion apparel-making industry.

The organized gangs steal spools of spandex yarn or bolts of fabric already woven with spandex and sell it to clothing manufacturers. There, it is transformed into clothing and sold in stores faster than authorities can track it.

Spandex can be found in 25 percent of women's wear, 10 percent of menswear and 5 percent of footwear. "If you're going to say three words about what is important in fashion," says clothing store owner Janice Venema. "It's comfort, comfort and comfort. And Lycra is the tool that has developed this comfort-friendly clothing."