Associated Press
"This isn't working," Lou Reed grumbled before walking out on one of America's best interviewers.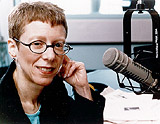 Feeling at home in the radio studio, Terry Gross has been doing broadcast interviews for 25 years.

Associated Press

Monica Lewinsky ended her interview equally abruptly, saying that questions about her relationship with the president got too intimate.

But after a quarter century and more than 5,000 interviews as host of public radio's "Fresh Air," Terry Gross is unfazed by an occasional walkout.

Lewinsky's exit just became part of the story, with Gross commenting that perhaps it wasn't a surprising end to an interview about which she was "ambivalent" and Lewinsky was "uncomfortable."

By now, Gross said, she has interviewed everyone who was on her wish list when she started the show in September 1975, including Dennis Hopper, Martin Scorcese, Christopher Walken, Stephen Sondheim (twice) and Stephen King.

Gross, 49, has gained the admiration of her peers. NPR's Scott Simon called her "the best interviewer in the English language, bar none."

'Fresh Air'
2 p.m. weekdays
KIPO, 89.3 FM

Growing up in Brooklyn, Gross never expected to be on radio; she wanted to be a writer or lyricist. Graduating from the State University of New York in Buffalo, she set out to be an English teacher, but lasted only six weeks in an eighth-grade classroom in Buffalo.

"I was shorter than most of my students and didn't look any older than they did and had no clue how to be an authority figure," said Gross, who is just over 5 feet tall.

After some temporary typing jobs she ended up at Buffalo public radio station WBFO "and immediately fell in love with it."

Within three years, Gross became producer and host of WHYY's "Fresh Air" in Philadelphia, then a three-hour show broadcast live every day. She scheduled interviews, met the guests, got them coffee, conducted the interviews and played records in between.

"You just had this constant time to fill, so I was nearly standing outside grabbing people by the collar and dragging them into the studio," she said. "It meant I took a lot of chances on the air. Some of them were with local eccentrics who turned out to be really interesting, but some of the chances I took were really boring."

Now "Fresh Air" has a larger staff, has contributing critics and commentators, and goes out to 330 NPR stations with 2.9 million listeners in the United States, Europe and Japan.

Gross and the producers scour newspapers and magazines "as if they were shopping catalogs" for interview ideas, and producer Amy Salit hands her a crate of books to skim each week.

Gross has adapted to the all-out pace. She is married to Francis Davis, a free-lance writer and Atlantic magazine jazz critic with an erratic though slower-paced schedule.

Gross has interviewed authors Saul Bellow, Norman Mailer, John Le Carre and Mickey Spillane, and actors Lauren Bacall, Kirk Douglas, Robert Redford and Al Pacino.

She has conversed with athletes Wilt Chamberlain and Tom Seaver, musicians Tony Bennett, Eric Clapton, Bonnie Raitt, Lionel Hampton and Itzhak Perlman, and political personalities from Jimmy Carter and Hillary Rodham Clinton to Bob Dole and Nancy Reagan.

"John Updike is one of the holders of the Fresh Air record, I think, maybe six times, because I've had him on for a lot of different books," Gross said.