By Dayton Morinaga
Advertiser Staff Writer
The guy with the distinct name has a distinct game.
Mindaugas Burneika proved that for the Hawai'i men's basketball team last week.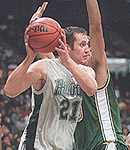 Mindaugas Burneika, shown here against Alabama Birmingham, will get a chance to showcase his skills in Texas.

Cory Lum • The Honolulu Advertiser

Starting in place of injured senior center Troy Ostler, Burneika averaged 15.7 points and 4.7 rebounds in three Rainbow Classic games. His role proved vital to the Rainbows' second-place finish in the eight-team tournament, and he was justly rewarded with a spot on the all-tournament team.

"I was just doing what I am supposed to do," said Burneika, a 6-foot-7 junior from Lithuania. "It's part of the team offense. I can't do it by myself. It just happened that I had some open shots and my teammates got me the ball."

Regardless, he may have to do it again this week when the Rainbows open play in the Western Athletic Conference with games at Texas Christian on Thursday, and then at Southern Methodist on Saturday.

Ostler, the Rainbows' leading scorer and rebounder, is still recovering from a sprained left ankle. He played a limited role in Hawai'i's last two games, and may be restricted to reserve status again this week.

Fittingly, Burneika will get to showcase his skills against two Texas schools that didn't actively recruit him, even though he was a junior college All-American at nearby Weatherford College.

"When I was in junior college, I played during the summers with a lot of the TCU guys," Burneika said. "So I know a lot of them. I'm looking forward to it."

Two weeks ago, he looked forward to any playing time he could get. Prior to the Rainbow Classic, Burneika never scored in double-figures this season, and averaged just 13 minutes per game.

"When he was working with the scout team, he'd make big shots all the time," said associate coach Bob Nash.

The only problem was that Burneika was a "tweener," meaning he was trapped between positions. He had perimeter skills, but not perimeter speed. He had low-post skills, but not low-post size and strength.

Still, he was head coach Riley Wallace's only option. In addition to Ostler's injury, center Haim Shimonovic is still awaiting an NCAA ruling on his eligibility, and forward Bosko Radovic is out for the season with a broken leg.

"A lot of times, new guys have to find a way in to make the adjustment to the team," said Nash, who coaches Hawai'i's post players. "Mindaugas found his way in."

Because of that, Burneika should remain a valuable player even after Ostler returns to the starting lineup.

"We knew he could shoot and score — we knew he had the skill level," Ostler said. "The only thing surprising was that he came right in and did it. But that's only going to help the whole team. He's confident now and we're confident in him."

To be sure, Burneika had long awaited his chance. After the Rainbows' first eight games this season, he'd have long conversations with his girlfriend, Janka Gabrielova, who is the starting point guard on the Hawai'i Wahine basketball team.

"He kept saying, 'I need a chance to play more,' " said Gabrielova. "I would tell him, 'You need to shoot more when you get in, and play better defense.' "

The words were wise, even though Burneika said, "you know women, they always try to tell you what to do."

At the same time, Burneika admits that Gabrielova and his teammate Nerijus Puida have eased his adjustment to Hawai'i. Puida and his wife, Dainora, are also from Lithuania, and helped recruit Burneika.

"Hawai'i has the beautiful weather," Burneika said. "But I would not be here if there were not all the other international players."
Upcoming games
January
4-At Texas Christian, 3:05 p.m.; 6-At Southern Methodist, 3:35 p.m; 11-Texas-El Paso, 7:05 p.m.; 13-Tulsa, 7:05 p.m.; 20-San Jose State, 7:05 p.m.; 25-At Tulsa, 3:35 p.m.; 27-At Rice, 3:35 p.m.
February
1-Fresno State, 7:05 p.m.; 3-Nevada, 7:05 p.m.; 8-At Nevada, 5:05 p.m.; 10-At Fresno State, 5 p.m.; 15-Southern Methodist, 7:05 p.m.; 17-Rice, 7:05 p.m.; 22-Texas Christian, 7:05 p.m.
March
1-At San Jose State, 5:30 p.m.; 3-At Texas-El Paso, 5:05 p.m.; 7-10-Western Athletic Conference Tournament (Tulsa).