By John Nadel
Associated Press
Because Marques Tuiasosopo came back, Washington didn't need a comeback in the Rose Bowl.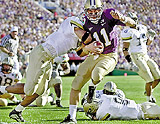 Purdue's Ralph Turner fails to wrap up Washington quarterback Marques Tuiasosopo, who scored on a five-yard run in the first quarter. The touchdown put the Huskies up, 14-0.

Associated Press

When the quarterback left the field with an injured throwing shoulder late in the third quarter yesterday, it appeared Washington's hopes went with him, even though the Huskies led Purdue by three points.

"I was mad," Tuiasosopo said. "I was like, 'Can you believe this, the Rose Bowl game?' "

Tuiasosopo missed three plays, returned before the start of the fourth quarter and then guided No. 4 Washington to two touchdowns and a 34-24 victory over the 14th-ranked Boilermakers.

Voted the Player of the Game, Tuiasosopo ran for one touchdown, passed for another and accounted for 213 yards.

"He is the absolute epitome of what a quarterback should be," Washington coach Rick Neuheisel said. "He hurt his shoulder, he came back in there and said he could play. The rest, as they say, is history."

Washington (11-1) finished the season with an eight-game winning streak. The Huskies rallied for eight victories this season, outscoring the opposition 144-68 in the fourth quarter during the regular season. Once again, they were dominant in the final 15 minutes.

The Huskies gave the Pac-10 its first Rose Bowl victory in five years and just its second in the last nine games. Washington was playing in its first Rose Bowl in eight years.

The Huskies started the fourth quarter with a 3-yard run by Rich Alexis on fourth-and-1 from the Purdue 35. Six plays later, Tuiasosopo threw an 8-yard touchdown pass to Todd Elstrom, extending the lead to 10 points.

A little more than a minute later, Greg Carothers forced and recovered a fumble by Montrell Lowe — the game's first turnover — at the Washington 34. Lowe, who gained 79 yards on 20 carries, was injured on the play and didn't return.

The Huskies then moved 66 yards on seven plays, scoring on an 8-yard run by Willie Hurst to make it 34-17 with 7:25 left.

The Boilermakers (8-4) closed to 10 points on a 42-yard run by Sedrick Brown on a fourth-and-1 with 6:37 left, and got the ball back a little more than a minute later after Tuiasosopo threw a lateral that Elstrom couldn't handle at the end of a 26-yard run. Ashante Woodyard recovered at the Purdue 49.

But Travis Dorsch was wide left on a 42-yard field goal with 4:54 to play, and the Huskies then ran out the clock. Tuiasosopo gained five yards on a fourth-and-1 play from the Washington 45 with a little less than three minutes left.

"I think their physical offensive line had a big hand in the game, and certainly, their quarterback is an exceptional player, without a doubt," Purdue coach Joe Tiller said. "They did what they had to do to win the game."

Tuiasosopo was 16-of-22 for 138 yards, and rushed for 75 yards on 15 carries. Purdue's Drew Brees, like Tuiasosopo playing in his final college game, was 23-of-39 for 275 yards and two touchdowns, both to Vinny Sutherland.

"It was a great road getting here," Brees said. "It was a dream season. Of course, I'm upset that we lost this game, but I thought that we played hard and we never gave up."

Paralyzed Washington safety Curtis Williams was transported to the Rose Bowl from his rehabilitation center in San Jose, and watched the game from a suite in the press box.

Williams, sitting in a wheelchair and wearing his game jersey, spent about 10 minutes with his teammates in an emotional locker room before the game. The Huskies wore his initials on their jerseys.

A fifth-year senior from Fresno, Williams was paralyzed from the neck down during Washington's 31-28 victory at Stanford on Oct. 28.