By Mike Lopresti
Gannett News Service
MIAMI — In the end, it did not matter how ugly the night often was. It will forever be beautiful in the memory of Oklahoma.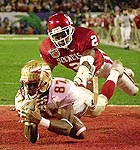 Florida State receiver Robert Morgan can't hang on to this fourth-quarter pass in the end zone. Oklahoma's Derrick Strait is the defender.

Associated Press

There is no doubt now about national champion, the controversy left behind last night when the No. 1 Sooners brought down the Florida State dynasty with defense, outslugging the Seminoles, 13-2, in the Orange Bowl.

They finish the lone unbeaten, these 13-0 Sooners, their last bow a stunning strangling of a Florida State offense that put up 46 points and 549 yards a game this season and carried quarterback Chris Weinke to the Heisman Trophy.

But on this remarkable night of Seminole silence, Weinke was only 25 for 51 passing for 276 yards with two interceptions and a fumble. Florida State averted its first shutout since 1988 with a safety in the last minute.

"We fully expected to play that way (defensively), and we fully expected to win," said Oklahoma coach Bob Stoops, completing his second year. "Our players recognized the history of Oklahoma is about winning championships. We had won six championships. Now we've won seven."

"It was like a nightmare," FSU coach Bobby Bowden said. "We simply could not get anything going offensively. They did a great job confusing us. We never got a pattern on what they were doing defensively. I'd say he (Stoops) made all the right moves. It was a good season, but we were lousy tonight. Nobody would make big catches to get us going."

This treatment by an Oklahoma program back from the wilderness. Three years ago the Sooners went 4-8 with their last four defeats coming by a combined score of 176-28. They had not finished in the top 10 in 13 years.

And now they sit back atop college football in an amazing turnaround.

Few saw this coming, either in total points or final winner.

The Sooners were a decided underdog — top ranking, unbeaten record and all. And the second-guessers were on full alert for the storm to take place in the polls after an anticipated Florida State victory, leaving the choice for No. 1 in the Associated Press ratings between the Seminoles and Miami.

Wasted conjecture, it turned out. Oklahoma's perfect record shouts down all debate. No matter how short this Orange Bowl was on offensive style points — Heisman runner-up Josh Heupel could not get his own team in the end zone until after a fumble the fourth period — 13-2 will be enough. Heupel was 25-for-39 for 214 yards, tormenting Florida State with his short passing game.

Fate, meanwhile, had cruel trickery in mind for the Seminoles.

Their first play of the game was a 35-yard Weinke pass to Atrews Bell, but that turned out to be a mirage.

Cornerback Tay Cody had a sensational start with an interception and forced fumble, but was hurt near the end of the quarter, and was gone for more than two periods to the hospital to have his spleen checked.

Tim Duncan's field goal gave Oklahoma a 3-0 halftime lead. Another made it 6-0 going into the fourth quarter.

The Sooners varied their defense, sometimes bent on a big rush, sometimes dropping eight into the passing zones. Weinke never seemed to really find his stride.

Oh, there was a sign of life early in the fourth period, when he drove the Seminoles to the Oklahoma 35, the passing game suddenly working, the lead only 6-0, the game still there to be won.

But he threw one incompletion, then another, then another. The night's moment of truth came on 4th and 10, when Anquan Boldin got a step on the secondary. It was a touchdown if Weinke would have hit him, as Heisman winners should. But the pass was just a little short, a little behind the receiver, a little too long in the air, and cornerback Derrick Strait had time to bat it away.

There was 12:07 left. But something had been settled right there.

On the next possession, deep in his own territory, Weinke scrambled for a first down but fumbled when hit by linebacker Rocky Calmus. Roy Williams recovered at the 15 for the Sooners, and 44 seconds later, Quentin Griffin ran 10 yards for the night's only touchdown, a 13-0 lead, and a stake in the Florida State heart.

Asked if he was disappointed about allowing FSU a safety to spoil the shutout, Stoops replied, "Are you kidding me? Everybody knows we shut them out defensively."

Oklahoma senior middle linebacker Torrance Marshall, credited with six tackles and an interception, was voted game MVP.