By Michael Tsai
Advertiser Staff Writer
It is 2 a.m. and the line to get into Waikiki's sweatiest night spot is getting longer.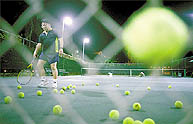 This tennis player takes advantage of the lights at Kapi'olani Park to sharpen his game. Tennis is just one of the activities that go on after dark at the park.

Cory Lum • The Honolulu Advertiser

Santa Clara student Thomas Wolfgruber, 22, and his buddies are waiting to get in.

So are 21-year-old UH student Max Quitog and his friends from high school.

"We come maybe twice a week," Quitog says. "It's the only place we know of that's open this late. We usually stay till about four o'clock."

Sam Uta, 25, is a regular at the all-night, all-ages venue. With no cover charge, Will Park, 21, and his girlfriend Renee Uchida, 20, can afford to stop whenever they want.

Who would have thought Kapi'olani Park could be so hip?

For those who prefer to get their late-night highs from endorphins, the Honolulu park is a prime parcel, indeed.

Most of the action is centered on the cluster of tennis courts fronting Queen's Beach. With lights available all night long, the courts are a favorite of tennis nighthawks, from late-shift workers to students to bleary eyed insomniacs.

"There was nothing to do so we just came here," said David Tsujimoto, 19 "We just play until we get tired and pass out."

Quitog, who is used to waiting for courts to open, kills time in the adjacent field playing soccer with his friends.

"It's kind of wet tonight, but sometimes we bring our rackets and just play (tennis) out here until a court opens up," he said.

Wolfgruber and his group have other designs for the courts.

The ardent skateboarders spin their wheels in the parking strip outside waiting for a better lit, smoother surface to avail itself.

"Were just hanging out, skating," Wolfgruber says. "It's kind nice, here. Less traffic, less people. It's pretty safe. Then there's the trees, the lights and shadows — kind of an appreciation-of-nature kind of thing."

Over the past year, improvements to the park, including a reconstructed bandstand, new bathrooms and better lighting, have enhanced the park's attractiveness to runners and walkers.

Runners are particularly fond of the park, which serves as the starting and finishing point of dozens of road races, including the Honolulu Marathon, throughout the year.

Distance runners follow a course from the park, continuing up Monsarrat Avenue or Diamond Head Road and out to Kalaniana'ole Highway. Others do laps around the park's 1.7-mile circumference.

Health educator Peter Silva, 27, said he and friend Rodney Powell, 27, drive to the park twice a week to walk. For them, an evening constitutional is a nice way to cap a busy day schedule and burn off their usually late dinners.

"There's nobody around and it's cool at night," Silva said. "It's safer than Ala Moana."

Waikiki security guard Dale Ramos, 41, gets off work at 11 p.m. and heads straight for the park, where he runs two to three laps at least three times a week.

"It's a great stress relief," he said. "It helps me get a good night's rest."

If he has the energy, Ramos also spends time at the park's fitness cluster where he runs through a circuit of crunches, pull-ups and dips.

"It's kind of nice having the park to yourself," he says. "It's like having your own personal playground."