By Dayton Morinaga
Advertiser Staff Writer
DALLAS — The Hawai'i men's basketball team got the Maverick treatment yesterday.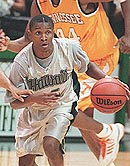 David Hilton, moving downcourt against Tennessee on Saturday, will be looked on to break TCU's press today.

Cory Lum • The Honolulu Advertiser

And even in the city of Cowboys, that's not a bad thing.

In preparation for today's Western Athletic Conference opener at Texas Christian, the Rainbows practiced at the Baylor-Tom Landry Center, a private facility otherwise reserved as the training site for the NBA's Dallas Mavericks. Last night, they were special guests at the Mavericks-Detroit Pistons game.

The courtesies came off an assist by former Rainbow guard Jarinn Akana, who is now an assistant for player development with the Mavericks.

"It's pretty nice to think that NBA guys practice here and they let us use it," Rainbow senior captain Nerijus Puida said. "But we have our game to think about."

Indeed, Hawai'i is in search of a maverick victory against the Horned Frogs — the Rainbows have never won a game in five previous trips to TCU.

This season, the task is not any easier. The Horned Frogs are 10-3, and lead all NCAA Division I teams with an average of 100.5 points per game. They have won 12 consecutive games in the Daniel-Meyer Coliseum, where today's game will be played.

"If you don't concentrate on what you need to do, this team will beat you by 40," Hawai'i coach Riley Wallace said. "Even if we had everybody (on the roster) available, we wouldn't be able to play their style of game."

As has been the case all season, the Rainbows will not be at full strength today. Senior center Troy Ostler, the team's leading scorer and rebounder, was still limping on his sprained left ankle yesterday. Mike McIntyre, the first guard off the bench, was his hop-along partner with a sprained left ankle of his own.

"I don't know if we can even use them in a game like this," Wallace said. "TCU will press you for 40 minutes, and if you can't run, you're no good in that kind of game."

What's more, freshman center Haim Shimonovic's eligibility remains in the hands of the NCAA, and he did not travel with the team.

With that in mind, Wallace said the Rainbows plan to attack the Horned Frogs' full-court press with controlled aggression. "We'll take layups when it's there, and it'll be there sometimes against a press like theirs. But if not, we have to take it out and run our offense and not get caught in an up-and-down running game with them."

The key, said Wallace, could be the play of point guard David "Jeep" Hilton, and the two wing-players alongside him, Puida and Predrag Savovic. Hilton, a 5-foot-11 freshman, will be given primary responsibility for breaking the TCU press, and then finding a streaking Puida or Savovic.

"TCU's style is really dangerous," said Hilton. "They want to embarrass you. They'll press and press and press, no matter what the score is. But they also gamble a lot, and we're hoping we're going to win a lot of those gambles."

TCU is adept at picking off passes in the backcourt. The Horned Frogs average 13 steals per game, compared to six by Hawai'i, and set a school-record with 30 in their last game, a 130-71 victory over Arkansas-Pine Bluff.

Greedy Daniels, a 6-1 junior guard, has lived up to his name with a team-leading 60 steals, including a WAC-record 12 in the Arkansas-Pine Bluff game.

But as Hilton commented: "Who'd they play? They're averaging 100 points a game, but I know they didn't play the kind of schedule we played."

To be sure, TCU has scored as many as 141 points this season against NAIA Central Oklahoma, but as few as 71 against NCAA-I College of Charleston.

"They look undisciplined sometimes, but that's their game," Wallace said. "That's how they score so much, by taking chances that sometimes work and sometimes don't."

As if all that weren't enough, temperatures were in the 20s yesterday, and the Rainbows had to endure a trip that lasted nearly 16 hours on Tuesday because of a three-hour delay in Los Angeles.

"Every year, we hear the excuses," said Puida. "But we cannot make those excuses. Teams have to come to Hawai'i and do the same thing."

As Wallace put it: "You have to be mentally tough and play through anything you encounter on the road. That's the only way you can be successful in this conference."

The opening test comes tonight.