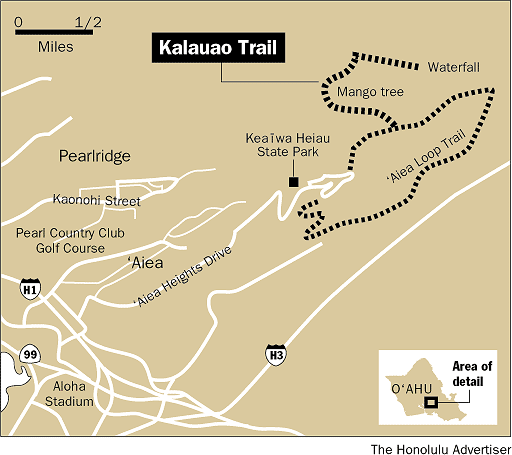 By Richard McMahon
LOCATION: The trail begins at Keaiwa Heiau State Recreation Area at the end of 'Aiea Heights Drive. After entering the gate to the park, drive through the camping area and up the one-way road to the upper parking lot. A sign at the rear of the lot shows the start of the 'Aiea Loop Trail, which is also the trailhead for this hike.
DESCRIPTION: For those who would like a variation of the 'Aiea Loop Trail (Advertiser, May 20, 1999), this 4-mile round trip to a small, secluded pool and waterfall, provides an ideal alternative, plus the advantage of a cooling dip. The short but steep descent to Kalauao Stream limits the number of visitors to this little-known location.
From the parking area, follow the 'Aiea Loop Trail as it enters the forest, then crosses an open area and a power line tower on the right. After the trail curves first to the right and then to the left, another trail branches off, down and to the left, through tall strawberry guava. Take this trail, which continues to descend along a ridge, passing under a power line tower, and through more, but lower strawberry guava. As the guava gives way to ironwood trees, the route widens into an eroded ridge. Watch carefully for a mango tree on the right, which marks the beginning of the trail dropping off the ridge and down to Kalauao Stream. Make sure you identify the trail before starting down.
A steep 20- to 30-minute descent ensues, marked by a few ironwoods, Christmasberry trees, and scattered guava. Upon reaching the stream, mark the spot, so that you can find your route back up, then turn right, on the path along the stream. The path crosses the stream several times, and you will need to watch carefully for the crossings. Ribbons may mark the crossing points. but where you cross the stream is not critical, as there is usually a path on both sides. After about 30 minutes or less, the trail reaches a small pool with a waterfall flowing over a 20-foot-high rock embankment. The pool is usually deep enough for a swim.
SPECIAL COMMENTS: The trail ascends to the top of the falls on the left (as you face the falls), and continues on upstream, for those who want to do more exploring.
The day's outing can be combined with a visit to the heiau, believed to be a medicinal site, named for a kahuna with mysterious healing powers.