By Eloise Aguiar
Advertiser Windward Bureau
WAIMANALO — Lorrie Wiley was always on the move.
"We go," she would say as she swept friends and family along with her, trying to get as much as she could out of each day.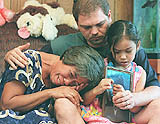 Lorenza Viernes, left, grieves for her recently killed daughter, Lorrie Wiley, and is comforted by Wiley's husband, David, and 5-year-old daughter Kayla Marie. Lorrie Wiley was killed Jan. 2 in a head-on car collision.

Deborah Booker • The Honolulu Advertiser

"She was a spur-of-the-moment person," said longtime friend Helen Rasay.

Wiley would call people and pester them until they said yes, Rasay said. "Even if we're tired and we didn't feel like doing anything, she would drag our butt."

Wiley was killed early Tuesday in a head-on collision on Kalaniana'ole Highway near Olomana Golf Links as she headed to work at Hickam Air Force Base, where she served in the Air National Guard.

At the time, it was the second traffic fatality of the new year. There have since been two more.

Yesterday, relatives and friends gathered at her home to talk about the woman who loved the outdoors and her family. With the emotional wounds still much too fresh, her family — she left behind her mother, husband and a 5-year-old daughter — struggles to cope.

Meanwhile, the other driver in the crash remains hospitalized in stable condition. He has not been arrested or charged, but police said alcohol may have been a factor in the man's behavior and have opened a negligent homicide investigation. It was at about 5:25 that morning when his Chrysler crossed the center line on Kalaniana'ole and smashed into Wiley's Honda Civic.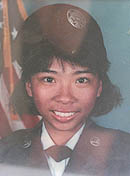 Lorrie Wiley, a member of the Hawai'i Air National Guard, was described as "gung ho" and often was recommended to show out-of-state guests around O'ahu.

Wiley, 32, lived with her mother, Lorenza Viernes; brother, Robert Rudy Macanas; husband, David; and daughter, Kayla Marie. They shared a duplex in a small neighborhood near Waimanalo Elementary School.

Viernes sat in the living room yesterday, clutching a photo of her daughter.

Boxes of family photographs were heaped all around in a search for pictures for a memorial service. Memories of Wiley's life growing up in Waimanalo filled the shelves: her graduation from Kaiser High School in 1986, her wedding, her military career. Among the photos sat a tiny trophy awarded to her daughter in May for being the "Youngest Girl to Catch a Fish."

Viernes, 62, said her daughter was her best friend. She would call from work every day and was a good mother, taking Kayla everywhere, Viernes said.

The family was a tight-knit group that enjoyed each other's friends and frequently entertained strangers at weekend barbecues.

"If an out-of-state Guard unit came to Hawai'i, she would be recommended to show them around the Island," said David Wiley, a bartender at Bellows Air Force Base. Then she'd invite friends over to meet the newcomers and her mother would cook.

In remembrance of her, Hickam Air Force Base flew its flag at half staff yesterday. Capt. Charles Anthony said Wiley was an outstanding airwoman who was also a member of the honor guard, a precision unit that attends ceremonies and funerals.

"She is a great loss for the Air Guard," Anthony said.

Members of the Guard said she would never take "no" or "I can't" for an answer. She always encouraged people to try new things and do their best, said Staff Sgt. Darrell Bactad.

"Whether it was hiking, surfing, canoeing or any other off-the-wall thing, she always said, 'you can do it,'" Bactad said. "She was your typical gung-ho person. I'm definitely going to miss her."

Joining the Guard was part of her go-for-it attitude, her brother said proudly from a spot on the floor at his mother's feet.

Outside the living room door sat three Japanese kadomatsu, bamboo-and-pine arrangements that Wiley made, hauling friends up to Nu'uanu in true "we-go" style before New Year's Eve to cut bamboo and collect pine sprigs. Of Filipino ancestry, she enjoyed learning to make the New Year's symbol from scratch with her friends and brother, said Freddie Abejon, a friend since preschool.

She gave another kadomatsu to her neighbor, Trudy Pimentel. "She was really special that way," Pimentel said. "She was like a daughter to me."

David Wiley said he has learned a painful lesson from his wife's death.

"If you love somebody, express your love. Love them more. Kiss them more," he said, adding that she was an outgoing person and he tended to stay indoors working on his computer.

He paused, and his brother-in-law handed him a box of tissues.

"I wished I would have done more with her."