By Brandon Masuoka
Advertiser Staff Writer
The Honolulu Fire Department helicopter airlifted two men from the shoreline below the Makapu'u lighthouse after they were injured by a wave yesterday afternoon.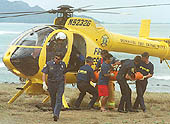 Firefighters transport the second of two men rescued by Fire Rescue One from the tidal pool area at the base of the Makapu'u lighthouse in Waimanalo. The two apparently were injured by a freak wave.

Deborah Booker • The Honolulu Advertiser

One man, 23, suffered a broken leg and the other man, 25, reported back pain, fire Battalion Chief Hiram Keliipio said.

The two men, both college students and natives of Sweden, were flown to an area near Sea Life Park, then taken by ambulance to the Queen's Medical Center, Keliipio said.

"Apparently they went out there to check out the tidal pool area, just below the lighthouse," said Capt. Aaron Young. "From what I've been told from the victims, a rogue wave came in, hit them."

The two men were among 10 or more people who had hiked down to a pool below the lighthouse. When the accident occurred, one of the beachgoers called for help on a cellular phone at 1:19 p.m., Keliipio said.

The pool is frequently visited by beachgoers and has several trails leading to it. On calm days like yesterday, beachgoers find the pool a nice place to sightsee, but "like anyplace else you have to watch what you do," Young said.

Six fire companies, along with a jet boat, responded to the scene. A total of 21 fire, medical and police personnel were involved in the rescue, Young said.