By Dan Nakaso
Advertiser Staff Writer
What started a century ago as a humble Chinatown celebration of popping firecrackers to chase away spirits on the New Year has evolved into a multimillion-dollar underground fireworks industry in Hawai'i unlike anything anywhere else in the country, and perhaps the world.
"The display of fireworks in Hawai'i is unique compared to the rest of the country," said Edward Cooper of the National Council on Fireworks Safety, a nonprofit organization based in Maryland that seeks to educate people about the dangers of fireworks and how to use them safely.
"I'm not sure why it is," Cooper said, "but there's an exuberance that you don't find in other parts of the country."
As more powerful explosives have arrived in the Islands, fireworks have generated complaints about noise and smoke and have become the focus of legislation. The debate places safety and health concerns against culture and an Island tradition that shows little sign of fading quietly.
Outlaw explosions — called "salutes" in the fireworks industry — set off car alarms and rattled windows all over O'ahu on New Year's Eve. High-tech, illegal aerials launched from mortars flew through the skies. And fire investigators say an aerial firework may have ignited a home in Palolo Valley, killing an 80-year-old woman and her two dogs.
The reasons that Hawai'i has come to embrace fireworks at each New Year lie in the social and economic forces that have been shaping the Islands for generations.
Chinese New Year celebrations, from San Francisco to New York, usually coincide with the traditional Chinese lunar calendar and are often examples of cultural pride and tradition.
But in Hawai'i's society, the Chinese, who began arriving in 1852 in large numbers, lived among other ethnic groups, and intermarriage was common.
So the New Year celebration evolved into something else in Hawai'i, something that over time has become synonymous with Island culture, said Gregory Yee Mark, a University of Hawai'i associate professor in ethnic studies.
'Speaks to a multi-ethnic society'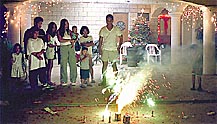 A Kalihi family celebrates New Year's Eve. A modest Chinese custom has grown into an annual multi-ethnic extravaganza featuring bigger — and more dangerous — bangs.

Jeff Widener • The Honolulu Advertiser

"In Hawai'i, all of these different specific practices from all over Asia have had a profound effect on local culture," Mark said. "It speaks to a multi-ethnic, multicultural society in which, for instance, it's no longer just the Japanese who are pounding mochi and who eat mochi on New Year's."

Mark has seen modern-day celebrations in the Chung Shan district of southern China, where most of the early Chinese immigrants came from. More than a century later, the celebrations there remain true to their origins, he said.

"They just pop a strand of firecrackers. It doesn't go on for hours and hours," he said. "They certainly don't use rockets, and people certainly aren't dying."

Mark said he doubts whether most people who light fireworks in Hawai'i even know that it began as a Chinese tradition to chase away evil spirits by lighting only firecrackers.

Even 79-year-old Charles H.U. Young, whom the Chinese Chamber of Commerce considers a cultural adviser, doesn't see New Year's in Hawai'i as a Chinese tradition.

"It's just a habit that I got into from childhood," he said.

Even from small-kid time, growing up at Kuakini and Fort streets, Young would blow up whatever he could afford to buy.

This year, as usual, he spent several hundred dollars on all kinds of fireworks.

"I'm one of the biggest offenders," he said. "I've got to plead guilty."

In Hawai'i, the Fourth of July comes in second to the New Year's celebration because many people — particularly some Hawaiians — see no reason to honor the birthday of the United States.

So, Mainland fireworks importers long ago realized that selling fireworks in Hawai'i at New Year's can be lucrative during an otherwise slow time of year.

"For the rest of the country, the industry basically looks forward to July 4th every year and after that kind of goes to sleep," said Kief Adler, president of the Western Pyrotechnic Association. "The industry is definitely marketing to Hawai'i for New Year's and definitely appreciates Hawai'i because of that."

"They realize we're in an off-market," said Honolulu Fire Department spokesman Capt. Richard Soo. "The big retailers can just dump the stuff that they didn't sell on the Fourth of July on the Mainland."

$2.3 million worth of fireworks

Because of U.S. Customs procedures, federal and state officials can document fireworks shipped into the Islands on foreign vessels. This year, they saw $2.3 million worth of fireworks, all from Asia, said Naomi Ferreira, supervisory inspector for the Customs Service.

Last year, with the millennium celebration, the value of foreign fireworks imported was more than double, $5.5 million.

Officials worry more about the unknown amount brought in illegally in shipping containers from the Mainland and listed on manifests as something benign, such as "household goods."

Soo said he believes a $20,000 fireworks investment can result in $500,000 worth of sales in Hawai'i.

Although the amount of fireworks documented by customs officials is down, Soo doesn't like the powerful aerials that now come to the Islands.

"This was the year it really stepped up to a high level," Soo said. "We didn't see as much of the smaller bottle rockets, the little ones that go 'pssssst, boop,' one time. This year, we saw the huge chrysanthemum displays, launched by those huge mortars, that go up and go boom and shake everybody's windows."

Donald Pascual, sales and safety coordinator at Hawaii Explosives & Pyrotechnics Inc., has his own concerns. He worries about the cost of fireworks licenses for professionals that have gone from $110 to nearly $6,000.

Instead of focusing on the fireworks industry, he'd like to see a safe zone at some place like Sand Island. There could be a carnival-like festival each year mixing professional fireworks with anyone who wants to shoot their own aerials, Pascual said. No one would have to worry about igniting houses or filling neighborhoods with smoke, he said.

It would be better than trying to stomp out a celebration that so many people embrace, he said.

Pascual, 46, grew up watching his neighbors in Kailua launch aerials — and launching his own.

"Living here in Hawai'i, a keiki o ka 'aina, it's always been that way," he said. "And it's been that way for many, many years."