By Frank Cho
Advertiser Staff Writer
Hopes for a safer, quieter New Year's Eve were dashed when an onslaught of illegal aerial fireworks and backyard pyrotechnics ignited fires that killed one person, injured another and burned three homes on O'ahu late Sunday night.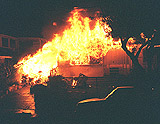 Flames engulfed much of a home at 2615 Myrtle St. in Palolo Valley, killing the 80-year-old resident, who kept stacks of newspapers to recycle.

Wesley Young photo

Despite restrictive fireworks laws enacted for this holiday season, Honolulu Fire Department officials said house fires in Palolo, 'Aiea and Wai'anae Valley caused more than $400,000 in damage, easily beating last year's millennium celebration, which caused a little more than $9,000 in damage.

"It is very sad to see three structures totally demolished as a result of aerial fireworks, and in this case two families left homeless as a result," said Fire Department spokesman Capt. Richard Soo.

In terms of property damage and calls to the fire department, this is one of the worst New Year's Eve in years, Soo said.

Calls flooded firehouses around O'ahu Sunday night, with firefighters responding to 132 calls by midnight, compared with 118 during the height of the millennium celebration a year ago. On an average day, they receive about 70 calls, Soo said.

An 8-year-old boy was burned when a 13-year old threw firecrackers on his back while playing on Kalaloa Street near Makalapa Park. The 8-year-old was treated at a hospital and later released.

Fire dispatchers reported that calls were light early in the evening when the Advertiser went to press at 8:30 p.m., but picked up rapidly as the night wore on.

By 10:30 p.m., Lillian Herring, 80, probably was asleep and didn't know fireworks had ignited chest-high stacks of newspapers she had stored in the carport of her Palolo Valley home. The fire quickly spread to the house.

'The person igniting the aerials probably does not realize the damage they caused to families in this city who are now homeless'

— Fire Capt. Richard Soo

As neighbors stood on the street watching her home burn, the fact that she wasn't also out there suggested that the worst had happened.

"I saw the fire when it started and tried to use my chemical fire extinguisher to put it out, but it was like nothing," said Wesley Young, who lives across the street from Herring. "I didn't hear anything or see her."

Young traded his extinguisher for a garden hose. With one hand holding the hose trying to douse the flames and the other dialing 911 on his cordless phone, he was pushed back by the heat.

Young said many aerial fireworks had been fired behind Herring's home and suspected they could have started the fire.

When fire trucks arrived at the 2615 Myrtle St. home minutes later, most of the house was engulfed.

Firefighters said the piles of newspapers, cans and bottles hampered their efforts to fight the fire. Several times firefighters went into the burning home and came back out.

Herring recycled the paper, bottles and aluminum cans to raise money for needy children in India, said the Rev. Lane Akiona, pastor at St. Patrick's, where Herring worshiped.

Herring died in the 40-year-old, three-bedroom home she shared with her two dogs, which also perished in the fire. Her 48-year-old daughter Christine Herring lived with her, but was not at home at the time of the fire.

The fire caused an estimated $100,000 worth of damage to the home and $40,000 to the contents, fire officials said.

Meanwhile, aerial rockets likely caused a fire that destroyed a home at 98-963 Iliee St., leaving a family of five adults and a 10-year-old child homeless. Damage to the home and its contents was estimated at $200,000.

The Red Cross is providing food, clothing and shelter to the families displaced by the fires.

In Wai'anae Valley, children who were playing with fireworks around 12:07 a.m. probably caused $25,000 damage to a structure on Kaukamana Road. No was was home at the time.

By 12:30 a.m., Soo said, half of the more than 300 firefighters on duty were out on calls.

"The person igniting the aerials probably does not realize the damage they caused to families in this city who are now homeless," Soo said.

State and county officials had hoped new regulations would curb Hawai'i's fireworks-filled celebrations. As of Saturday, only 6,150 O'ahu residents had bought the new $25 permits required to set off a maximum of 5,000 firecrackers.

And while that may have reduced smoky conditions around the city, Soo suggested it might have pushed some people to buy more aerial fireworks, which are illegal.

Fire investigators sifted through the ashes yesterday, trying to determine the cause of the New Year's Eve fires.

The department has sought a total ban on fireworks, which has been resisted by the Legislature in favor of tightening the law governing firework sales and use.

Soo said the Fire Department would take the new statistics to the state Legislature in hopes of finding a way to control the importation and sale of illegal aerial fireworks.

"It does seem the permit is controlling the individual use of firecrackers. But the sad thing to note is that these structure fires are being caused by aerial fireworks," Soo said.

Aerials always have been illegal in Honolulu, but it is difficult to catch people using them.

"Determining the actual source of an aerial firework is like finding a needle in a haystack," said Soo.