In Palolo, unanswered questions and grief
What should be done about aerial fireworks? Join our online discussion
Previous story: New Year's fireworks were plentiful, deadly

By Scott Ishikawa
and Robbie Dingeman
Advertiser Staff Writers
Gov. Ben Cayetano is asking for a total fireworks ban on O'ahu after the widespread use of illegal aerials on New Year's Eve caused nearly $400,000 in property damage and is believed to have ignited a house fire that killed an 80-year-old Palolo woman.
Cayetano said he will introduce a measure this legislative session that would specifically ban fireworks on O'ahu, but not on Neighbor Islands where there are historically fewer problems. Those who oppose a total ban say such a move is unnecessary. What is needed, they say, is stricter enforcement of the current law, which requires fireworks users to obtain a $25 permit for each 5,000 firecrackers purchased.
That law was passed in the last session of the Legislature and was in effect for the first time this New Year's holiday. It noticeably cut down on fireworks usage and related smoke, but it was illegal aerials that caused the most damage.
"I thought the environment was better, but we still had damages, fire and death," Cayetano said yesterday. "We'll go to the Legislature and ask for a ban only for O'ahu ... the (population) density that we have makes it very, very dangerous."
Cayetano said the fireworks permit system worked well in reducing firecracker usage, but said a total ban is still needed to rid the state of aerial fireworks. A total of 6,100 fireworks permits were issued on O'ahu, generating $150,000 in revenue.
"It's still dangerous because we found some aerial fireworks in the yard at Washington Place," he said.
Lawmakers last year wrestled with fireworks legislation in the wake of escalating property damage and injuries from fireworks during the New Year's holiday that shrouded O'ahu in smoke. After heated debate over balancing safety with the cultural importance of allowing fireworks, the House and Senate reached a compromise with the permitting system.
Smuggling issue
State House Judiciary chairman Eric Hamakawa (D-South Hilo, Puna) said more enforcement, not a total ban, is needed to cut down on the importation of illegal fireworks.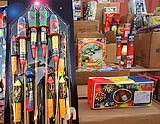 More than 1,800 pounds of illegal aerial fireworks are being held by the Honolulu Police Department's bomb squad for demolition. These packages were confiscated recently in Pearl City.

Deborah Booker • The Honolulu Advertiser

"All the damage was done by the illegal stuff. Doing more to ban these things is not going to help," Hamakawa said. "I think the law did what it was supposed to. It cut down on the smoke, and people were generally happier with the results."

Hamakawa said a total fireworks ban on O'ahu only would create a dangerous problem with people on O'ahu going to Neighbor Islands to buy them and smuggling them to O'ahu.

"You don't want to create a situation where people from O'ahu go to Maui or the Big Island to buy their fireworks and bring the stuff back home on the plane," Hamakawa said. "It creates a dangerous situation for the airlines."

State Sen. Rod Tam (D-Nu'uanu, Downtown, Sand Island), a strong fireworks supporter, said a total ban would interfere with cultural and religious practices that promote the use of fireworks.

"Unfortunately, there will be those who use illegal fireworks if they can get away with it," Tam said. "But don't punish those who do follow the law."

Tam said he will introduce legislation this year that expands the use of fireworks for cultural and religious purposes on holidays other than New Year's, Chinese New Year's and Fourth of July — the only times fireworks currently are allowed.

Awaiting figures

Honolulu Fire Department Capt. Richard Soo said fire officials today will finish compiling the number of alarm calls from Dec. 31 through yesterday. Soo said fire, police and emergency medical services officials will present the numbers to the state Legislature for further review.

"From there, we'll see if there should be a total ban or fine-tuning of the current law," Soo said.

According to O'ahu figures for Dec. 31 and Jan. 1, there were four structure fires, 36 brushfires and 44 rubbish fires classified as fireworks-related.

While fireworks supporters say more enforcement is needed, Honolulu Fire Deputy Chief John Clark said the availability of legal fireworks makes it impossible to watch for the illegal pyrotechnics.

"Right now, the legal fireworks camouflage the illegal fireworks," said Clark, whose department always has pushed for a total ban.

City Councilman Duke Bainum said the death of a Palolo woman and the destruction of homes this New Year's caused him to re-evaluate his stance on fireworks.

"You've got a family that's without a mother today because of fireworks," Bainum said. "It saddens me. I enjoy fireworks. I think everyone has fun. I like shooting them off as well, but the time has come to re-evaluate at least here on O'ahu.

"I think we've got to fund enforcement so that the tragic events of this New Year's do not happen again."

This year's death was not the first on O'ahu related to fireworks. During last year's celebrations, a 25-year-old Waialua man died of head injuries after an aerial fireworks device exploded.

Honolulu Police Chief Lee Donohue said it's difficult to crack down on fireworks because so many consider them a local tradition.

"Myself, I play with fireworks," Donohue said. "But now that Honolulu has grown to the nation's 11th largest city, it's more difficult to prevent fireworks-related problems. It's a tough law to enforce because the last survey that I heard about was that 53 percent of the community was still in favor of some kind of fireworks."

Police reported a significant drop in fireworks-related violations and arrests in the past weekend, compared with the previous year.

From Dec. 26 to yesterday, police received 1,122 calls, compared with 2,595 during the same period last year. There were only one adult and one juvenile arrested on fireworks violations, compared with 10 adults and seven juveniles from the previous year.

Police also cited nine adults for fireworks violations, compared with 27 a year earlier.

Donohue said police moved away from arrests this year in favor of citations "unless it was very blatant or dangerous."

Mayor stands by policy

Mayor Jeremy Harris said he is not ready to support a fireworks ban. Last year, he pressed for zones away from the urban centers where people could shoot off fireworks.

However, Harris said he believes that the state Legislature's move to limit fireworks helped this year.

"It's gotten a lot better, but it hasn't been solved," he said. "It was only a fraction of what it normally is."

Harris suggested the possibility of a centralized fireworks display being sponsored.

Police in Hilo and Kona said the celebrations were quieter than in the past.

There was one arrest in Hilo on Saturday night of a 17-year-old boy who was seen tossing a firecracker from a moving car on Ponahawai Street.

There were 28 fire calls on New Year's Eve, none involving structures, compared with 68 a year ago.

The biggest was a 4-acre brushfire off Palani Road in Kailua-Kona near Creative Day Preschool.

Three people suffered minor burn injuries from fireworks. All were treated and released, according to Battalion Chief Tom Bello.

Firefighters on Kaua'i said New Year's Eve was the quietest in recent memory, with no reported fireworks injuries and few fires of consequence.

"We had a few fireworks-related fires, but it was very light — small brushfires and trees. For us, the new law seemed to work. It was very benign," said Fire Chief David Sproat.

He said most of the noisy fireworks activity began about 9 p.m., which is late by normal Kaua'i standards. Illegal aerial fireworks and extensive firecracker use seemed down. Sproat believes much of the illegal activity came from stored fireworks bought in previous seasons.

Brushfires on Maui

County firefighters on Maui received 12 fireworks-related calls on New Year's Eve and were dispatched to 10 small brushfires. The largest blaze burned 10 acres near the Sandalwood Golf Course in Waikapu. Fire Chief Clayton Ishikawa said it is unclear how many of the brushfires were caused by fireworks.

Maui firefighters also were called out to a trash bin fire and to a Wailuku home where sparks from children playing with fireworks ignited Christmas trees in the back of a pickup truck.

Another incident was reported at a Napili condominium when a Christmas tree caught fire. Damage was minor in all cases.

Ishikawa said the most serious incident happened Friday night when a homemade fireworks device exploded in a 29-year-old man's hand at Komohana Place in Lahaina. The man's left hand was seriously injured, and he lost parts of his fingers.

Officials said he had removed powder from firecrackers to make a larger explosive using a PVC pipe.

The Fire Department issued about 441 firecracker permits for Maui, 92 on Sunday alone. Permit figures from Lana'i and Moloka'i were not available.

"It seemed like there were a lot less fireworks. But there were still a lot aerials,'" Ishikawa said.

Advertiser Staff Writers Curtis Lum, Jan TenBruggencate, Tim Hurley and Hugh Clark contributed to this report.