Advertiser Staff

"Pualani" has grown up. The familiar flower girl who has graced the tail of Hawaiian Airlines planes for 28 years, known to employees and some members of the public as Pualani or "Flower of the Sky," has gotten a new look.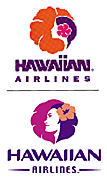 Hawaiian Airlines new logo, bottom, reflects the company's changes, said Chief Executive Paul Casey.

"The changes are subtle, but they really reflect the changes in our company," Hawaiian chief executive Paul Casey said yesterday at the unveiling. "She is more sophisticated; she has matured. She is a symbol of our future."

Over the past three years, Hawaiian has added nearly 1,000 employees, tapped new markets, and will replace its more than 20-year-old DC-9 interisland planes with more modern Boeing 717s, starting in March.

The updated logo will grow from a dainty detail on the DC-9 tail to an image that covers the entire tail section of Hawaiian's 13 new 717s. Developed at a cost of about $50,000, the logo also will be phased in on business cards, stationery and other material over 18 months.

The company's "Hawaiian" lettering also will be more streamlined than the previous block-style letters.