USA Today

Combining American Airlines and TWA could eliminate competition on nearly half of the 19 nonstop routes where the two airlines overlap, and the carrier would dominate in some key business and vacation routes including New York, the Caribbean and St. Louis, a USA Today analysis shows.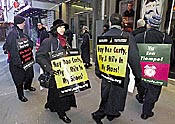 Members of the Association of Professional Flight Attendants, the flight attendants of American Airlines, marched yesterday in front of the Broadway theater in New York City where the airline announced its acquisition of TWA.

Associated Press

American announced yesterday that it is buying most of troubled Trans World Airlines Inc. in a $500 million deal that will expand American's reach in the U.S. and abroad and reshape the nation's air travel market.

Routes where TWA and American are the only competitors include Los Angeles-St. Louis, Dallas/Fort Worth-St. Louis and Boston-San Juan, Puerto Rico, according to flight-schedule data provided by OAG and Back Aviation Solutions.

Buying TWA also would increase American's market share on some routes out of New York's Kennedy airport. The two airlines fly 60 percent of the seats between JFK and Boston, 83 percent between JFK and Miami and all the seats between JFK and San Juan and the Caribbean island of St. Maarten.

On the Los Angeles-New York route — recently ranked by Aviation Daily as the second most popular in the country behind Boston-New York — the two carriers combined have about half the market share.

In Hawai'i, the two carriers combined would control 900,000 available seats, or about 16 percent of the market between the U.S. Mainland and Hawai'i. It would become the second-largest carrier, behind United's 30 percent market share.

"A little overlap here and there and sooner or later you have this situation where the number of monopoly markets continues to grow and grow," said Kevin Mitchell, founder of the Business Travel Coalition, an advocacy group for more competitive air service.

American and TWA officials, in separate appearances to announce American's proposed purchase, had little to say yesterday about overlap or divestiture. The overlapping routes could be an issue when federal regulators weigh whether to approve the deal.

Donald Carty, chief executive officer of American parent AMR, defended the broader issue of airline consolidation, saying it would help consumers.

"What we're trying to do in consolidating is not eliminate competitors," he says. "We're trying to build a network. Our desire is to say to our customers, 'We can take you anywhere, any time in the world.' "

If that world includes some key East Coast airports, an analysis by low-fare airline AirTran indicates there may not be much choice but to get there by United or American.

Its study of domestic departures found that United-US Airways and American-TWA combinations jointly would operate 92 percent of flights from Charlotte, N.C., 81 percent from Philadelphia, 90 percent from Pittsburgh, 67 percent from Washington Reagan National, 58 percent from Boston and 57 percent from New York's La Guardia.

Such figures alarm some members of Congress. "We don't want this set of deals leading to a wave of mergers that will reduce competition," said Sen. Byron Dorgan, D-N.D., who plans to seek hearings on the issue.

Travel-dependent businesses and organizations say they're willing to wait to see what happens. They acknowledge, however, that losing TWA hurts.

"No question, it is a step backward," said Richard Kahn, spokesman for the Caribbean Tourism Association, which represents 33 governments.

After years of near-total dependence on American Airlines, the Caribbean was starting to see more diversity in the airlines flying the island routes. TWA was filling in where American had cut back.

"We have excellent relations with both carriers, and at the present time, it's business as usual," said Jennifer de la Cruz, spokeswoman for Carnival Cruises, which depends on airlines to get its customers to ports in Miami and San Juan.