Health Calendar

By Elizabeth Kieszkowski
Assistant Features Editor
Wimp. Not a wimp.
Those are the elemental choices that face would-be grunts at Basic Training by Fish. Either you have the right stuff necessary to rise before dawn and get gung ho over laps, push-ups, pull-ups, lunges and sit-ups galore, or you're one of the weak ones — those who can't.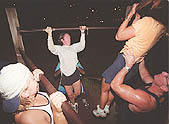 Tina Ludlow, Monica Toomey and Kelly Duncan do pull-ups. Leader Wayne Fisher's motto: "Pain is weakness leaving the body."

Richard Ambo • The Honolulu Advertiser

Challenged to participate in Wayne Fisher's physical fitness program, I first said "yes" because it sounded like a good story, and then faced the biggest hurdle: fear. I'm 40, I sit at a desk most days, and I rarely get out of bed before 8 a.m. — could I do this?

Well, yes, I could — and the worrying was the hardest part. Once out of bed and on the ground running, I found Wayne "Fish" Fisher's program downright motivational.

Basic Training by Fish epitomizes the phrase "tough but effective," best suited for the person who, like me, needs tough love on the fitness front.

Tough love was what I got from Fish, starting with that first Monday morning when I arrived at 5:31 a.m. Class starts at 5:30. By the time I got out of my car, participants were running away from me, toward the open fields of Kapi'olani Park.

Extra push-ups

"Those that are late, we'll do 20 extra push-ups!" Fish boomed.

I got moving.

Basic Training By Fish
5:30-6:15 a.m., Mondays, Wednesdays and Fridays at Kapi'olani Park
7 p.m. Saturday (discussion with John Ka'imikaua follows)
$59 monthly, $79 per couple ($99 registration fee)
542-0039
basictraining@hotmail.com

Perhaps the sleepiness gave me an advantage that first day. Fully coherent, I might have decided that I was incapable of running until I couldn't run any more, then, after a quick stretch, crab-walking between pylons until I couldn't do that any more.

This was followed by a switch (designed for the incompetent at crab-walking) to a lunge-walk for a couple more rounds. Then we dropped to the damp, grassy earth for push-ups, near the end of which I, again, could not go on.

"Keep it up, ladies," Fish bellowed. Like most aspects of his technique, the "ladies" epithet fell somewhere between a term of courtesy and insult.

I soon picked up on Fish's pattern: Push and follow up.

"Keep going, Elizabeth," he'd yell, when I fell behind the pack. Then, the next time he lapped me, he'd look over and say, "You OK?"

Before I had time to shake my head clear and think, "Noooooo!" the 45 minutes of intense activity — including scores and scores of push-ups — were over.

My legs felt like hard rubber, my lungs were in a slow burn and my arms were cardboard. But my heart was pumping, and I felt as if I'd really accomplished something. Corny as it sounds, I felt proud.

I was on time for my next session, held at the water's edge at K¬hio Beach in Waikiki.

Using the water for added resistance, Fish had us run into, out of and across a shallow section. We did — count 'em — 100 sit-ups at the water's edge. And yes, there were more push-ups.

Commitment pays off

Sticking with the strenuous program can produce noteworthy results. Just ask Monica Toomey, a former Navy quartermaster, second class, who used the course to pass the notoriously challenging Navy dive-school test.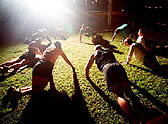 Class members do some push-ups. Fisher's course started out as classes for members of the military at Pearl Harbor.

Richard Ambo • The Honolulu Advertiser

The test required Toomey to run a mile and a half, swim 500 meters, do 50 push-ups and 50 sit-ups within limited time periods. It also requires six pull-ups — the bane of most women's workout programs.

"At the time, I thought I could do all that, except the pull-ups," Toomey said. "I found out I couldn't."

Toomey, then 29, started working out with Fisher twice a day in August 1999. "He said ... You do the work, and I'll help you,'" Toomey recalled.

"Poor Fish, he must have done 20 million shoulder presses, lifting me up on that bar."

By November 1999, Toomey had dropped four dress sizes — from a 12 to a 4. "I came out of the dressing room jumping and yelling, dancing on the furniture," she said.

Next stop: dive school. Toomey was meeting her fitness goals, and in the process impressed her friends and family.

"I was amazing myself every day," she said.

Last February, Toomey passed the dive-school fitness test, complete with pull-ups. Shortly afterward, however, she dropped out. More than she wanted to become a military diver, she said, she had wanted to pass the test. She left the Navy in November but continues to keep up with the class.

"The class is basically keeping me anchored," Toomey declared. "I feel the need to get up and do that. If I don't participate, something is missing."

'Be a hero'

"People think they have to keep up right from the start or 'look good' or be in front," Wayne Fisher said. "That's what holds them back, sometimes."

What he means is that the secret to producing results isn't being ready or fit before you start, but simply starting — having the guts to get out in the dark and the damp and push yourself.

"I got on the class last week, because they were slacking off," he recalled. "I said, 'Dammit, all I want is for you to be a hero for 45 minutes! Just pretend somebody's looking to you for inspiration.' "

A Navy diver from 1989 to 1999, Fisher worked with the SEALs in Hawai'i between 1995 and 1999. He developed his program as an outgrowth of the training he had been doing, first in the Navy, then as a combatant in a hybrid, heavy-duty martial-arts program known as "grappling."

Egan Inoue, Fisher's trainer in the Grappling Unlimited program, gets credit for showing Fisher the value of leading by example. "Egan didn't compare our skill levels, because he was so much more advanced than me," Fisher said. "He just wanted me to give it all I had.

"I see what people are capable of, if they really want something. If you really want to make that goal, you're just going to have to suck it up and work to achieve it."

Going to high schools

Basic Training by Fish started in January 1999, with a program for military members only at Pearl Harbor. As it gained in popularity, he decided to take it to the civilian world.

While his program waiver warns that "exercise is not without varying degrees of risk to the musculo-skeletal and/or cardio-respiratory systems," Fisher is certified as a group fitness instructor and personal trainer by the Aerobics and Fitness Association of America, and as a personal trainer by the Cooper Institute. He's also a qualified Hawai'i lifeguard. He will soon be bringing his training program to O'ahu high schools through a Goodwill Industries program.

Fisher emphasizes accountability, achievement and, ultimately, pride.

"Tired isn't an excuse. Weak isn't an excuse," he said firmly, in the hard-breathing pre-dawn moments after my first day's program. But he does account for conditioning by providing alternative exercises for the less-fit in the bunch.

The group dynamic pulls participants along further than they would go alone, Fisher said. In my case, that was certainly true.

Two weeks later, I'll admit that some unused-for-decades muscles are still sore. But when I feel stiff, I remind myself of Fish's slogan: "Pain is weakness leaving the body." And I suck it up.