By Joseph T. Rozmiarek
Advertiser Stage Critic
The first play of 2001 is a wonderful ensemble success for Manoa Valley Theatre.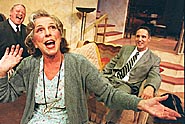 This scene involves characters Reba Freitag (Sylvia Hormann-Alper), Adolph Freitag (Richard Pellett, left) and Russell Motter (Joe Farkas).

Cory Lum • The Honolulu Advertiser

Alfred Uhry's "The Last Night of Ballyhoo" delights audiences with old-fashioned, parlor comedy charm, while exploring deeper character insights and creating good period flavor.

It's 1939 and Hitler's army is invading Poland, but Clark Gable is attending the premiere of "Gone With the Wind" in Atlanta, where successful Jewish families are making plans for the big dance of the winter social season. Most of the play's action happens in the Freitag living room, where two generations deal with current events and personal transitions.

The Atlanta Freitags are well-off and comfortable with their status, fully aware of their separate society, but Jewish only by heritage and only dimly aware of their religious traditions. Enter young Joe Farkas, newly arrived from Brooklyn — handsome, smart, Orthodox, and disturbingly ethnic.

The resulting mix gently nudges the family toward a closer examination of its values and identity.

Uhry's script offers fine acting opportunities, and Betty Burdick's direction brings out the best from a fine cast.

Richard Pellett reprises his role as head of the household from Army Community Theatre's staged reading of the play last season. He sets just the right tone of bemused tolerance and endless patience for the businessman surrounded by a household of women.

'The Last Night of Ballyhoo'
8 p.m. Fridays and Saturdays, 4 p.m. Sundays, 7:30 p.m. Wednesdays and Thursdays, through Jan. 28
Manoa Valley Theatre
$22 (discounts available for students, seniors, military and those under age 25)
988-6131

Shelagh Profit is excellent as his pushy sister, whining over her reduced housekeeping role and insisting that her hopeless daughter claim a place for herself in the social swirl. Sylvia Hormann-Alper is perfect as their simple sister-in-law, self-effacing, supportive, and in total awe of her own accomplished daughter, a junior at Wellesley College.

The young women could not be more dissimilar cousins. Zenia Zambrano is the self-possessed, perceptive Sunny; and Jennifer Vo appears as headstrong and vapid Lala Levy.

Russell Motter makes a good case for staying grounded in his convictions as Joe, while Braddoc DeCaires creates outrageous personal style for Peachy Weil, the much touted "good catch" from Louisiana.

All this happens on a richly detailed set designed by Wally White, filled with Sharon Garcia's period costumes and Greg Howell's authentic hair designs.

The real charm in "Ballyhoo" goes beyond the characters' confrontation with their Jewishness and their innocence of the world-changing events broiling in Europe. It attracts audiences with its simple study of the foibles and aspirations of real people who are trying to make some sense of their lives. Ultimately we are drawn to the truth in the characters and identify with their humanity.

Uhry worked the same chemistry in his first play, "Driving Miss Daisy," which also struck deep chords in the relationship between an old white woman and her black chauffeur.

Seeing "Ballyhoo" at MVT is a good way to start the new year.