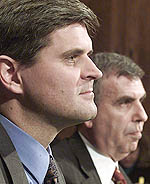 Steve Case, left, will be chairman of the new company, while Time Warner chairman Gerald Levin, right, will be its chief executive.
Advertiser library photo • Dec. 13, 2000
AOL-Time Warner merger gets final federal clearance
The $106 billion merger of America Online and Time Warner cleared its final government hurdle yesterday, paving the way for the creation of the nation's largest media empire.

Huge challenges ahead for No. 1 media and Internet company
Liberty House continues to gain strength
As Liberty House nears what could be the end of its nearly three-year struggle to emerge from bankruptcy, financial results show continued gradual strengthening.
Coming Events