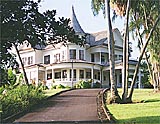 The Shipman mansion, in the hands of a family descendant and with its doors open to paying guests, has been renovated over the past several years. The estate is in Hilo on the Big Island.

Hugh Clark • The Honolulu Advertiser
Tube Notes
Reviving Hilo's Shipman castle
Hilo's Shipman estate, doubling as a bed and breakfast, is reshaping itself in the elegance of its past. The windows that ring the famed mansion are indicative of a bit of historic novelty as well as a wee touch of ornery tax deception.

'Kilohi' show is a look at hula's deities
This weekend's "Kilohi: Na Akua Wahine," a two-night performance at the Hawai'i Theatre, as an event to educate the hula-loving public a bit and to generate both revenue and a centerpiece production for the summer conference.

Elton John is back, this time with his band, for performances tonight and Saturday at Blaisdell Arena. Here's a bandbox full of such tidbits as his birth name, love life and aliases he uses while traveling.