'Celebration of Life' will be held Sunday
By Wayne Harada
Advertiser Entertainment Editor
In true carnival tradition, the show will go on at the E.K. Fernandez camp at Campbell Industrial Park, where CEO Kanekepo'okalani Fernandez — "Kane" to his friends and patrons — ruled until his unexpected death Tuesday.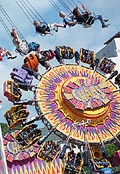 The Chaos ride is one of the Fernandez carnival's most popular attractions. The company stages 13 to 16 carnivals a year in the Islands.

Advertiser library photo • Feb. 7, 1998

"You fall off the wire, but you get back on," said his daughter, Shelley Fernandez-Katz.

"He's watching over us," said his widow, Linda Fernandez, sitting in Kane's cozy office cluttered with things that he loved: prints of fish he caught in Canada, replicas of bumper-car rides that generations of Island kids have enjoyed, framed articles about his reign as a master showman and koa bowls that applauded his charitable community work.

"'Kanekepo'okalani' means 'man standing in heaven,'" said Linda. "It took me a while to learn to pronounce. And I know he is watching over us, guiding us now, from heaven."

E.K and Rose Fernandez, Kane's parents, were the pioneers of an amusement empire and a family business that will mark its centennial in 2003. It is now a multimillion-dollar business (privately held, and the family declines to give exact figures), one of the 250 largest businesses in the Islands.

Kane Fernandez served as president and chief executive of E.K. Fernandez Shows since 1970, taking over a business his father started. Over the years, his wife and two of their three children became active in subsidiary operations.

With his death, a third generation will carry forth his dream of giving people a good time.

"Tell everybody that the show will go on, nothing will change," said Linda, the day after she lost her husband. "We're in this together ... for Kane."

He died at the Queen's Medical Center just after attending a meeting at Star of the Sea School to map out plans for a campus carnival in May. He was 64. His widow said he had never showed any sign of a serious heart condition.

Business goes international

Kane was to attend Elton John's concert tonight and leave next week for Taiwan to check out the Fernandez family's latest acquisition: Carnival USA, an all-American carnival. With a price tag of $6 million to $10 million, it was not unlike one that the Fernandez family has staged here for decades. The first international Fernandez carnival will open in Kaoshung, Taiwan, next Friday. "He had been working on this for months," said son Scott Fernandez, who is chief executive of E.K. Shows, overseeing carnival, food and game operations. "Dad made the deals, and he'd always tell me I'd have to bring home the bacon — make things happen."

"Now we'll pick up the pieces," said Linda, who has been overseeing the company's 28 Fun Factories indoor amusement parlors around the state. She may succeed her husband as president and chief executive, but nothing has been decided.

"It's what we do, move on," said daughter Shelley Fernandez-Katz, who is chief executive of Merchandise International, the wing that acquires and distributes merchandise and prizes for the Fernandez carnivals and Fun Factory outlets.

The show goes on

Kane Fernandez ran the business his father started in 1903.

There's precious little time for private grieving, said Shelley. "I can hear dad saying "Make Taiwan happen.'" With a note of irony, she added: "We grieved between 8 and 8:45 this morning. When you have a public demanding your services, death cannot impede your business."

Scott said that the carnival and amusement business "is like retail. You can't stop. You have to keep adding to your inventory. Except in our business, you're buying pretty expensive jeans."

He was referring to the Spin-Out, a ride costing in excess of $5 million, which will be imported from Britain as a new attraction for this year's State Fair at Aloha Stadium.

Another daughter, Kanekapolei Sydney Fasi, has been pursuing a modeling career but has had input in the family business. Her dad's death brings her to a fork in the road.

"His passing certainly stirs some feelings," said Sydney. "My sister and brother have been involved in things he loved: his dream, his vision. I need to seriously think about whether I, too, can get involved, now that I live here."

She had been attending school, here and on the Mainland, to earn her accounting and business credentials, with her father's support. But Kane never pushed his children into the business, said Scott.

"It's always been our choice," said Shelley.

Mostly, they chose to work with dad. "Even at 3, I would hold three fingers up, signaling three scrip, and pass out the cotton candy," said Sydney.

Changing with the times

Kane's first job was pitching peanuts at the circus for his father E.K., said Linda, who met the man she would marry on a blind date when he was in the Navy.

"It boggles our mind that the family business will make 100 years in two years," Linda said, "because when E.K. first started out in the circus business here, some of the people were still speaking Hawaiian."

The company now stages 13 to 16 carnivals a year, fewer than in years past, because of a diminishing number of sites.

"There have been some social changes out there," said Scott. "But with attendance going up, it tells us people still love carnivals. They miss it if there isn't one."

The Punahou Carnival is one of the biggest.

But it took one attendance-ruining wet play date, years ago, to lead the the Fernandez family to decide that they had to try something new.

"I think we lost $100,000, and we were standing in the mud that went all the way up to Metcalf," said Linda. "Kane had this vision; he came up with the concept of the first Fun Factory, an indoor carnival.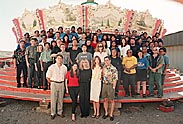 The Fernandez family and staff gather for a picture.

Cory Lum • The Honolulu Advertiser

"We had no money in the bank, and Kane said we've got to get a business inside so we can balance this (rained-out) situation.

"Next week, we were off to Oklahoma to see the concept and soon after, we opened our first."

Kane Fernandez was very much the leader, the one who set the agenda, professionally and personally.

"Mother and dad fished on their honeymoon," said Shelley.

"That's because fishing is what he lived for," said Sydney.

"It was terrible," said Linda.

At least twice a year, Kane would haul family and friends on fishing expeditions to Canada; throughout the year, there'd be more junkets.

"Usually, his friends caught bigger fish than he," said Shelley.

"His joy was sharing the experience with others," said Linda. "That was his life — Mr. Aloha."

'He was one nice man'

When an Advertiser photographer arrived at the Campbell site to illustrate this story, Linda Fernandez summoned many of the 100 employees who work the warehouses, prepping the carnival rides, tents and other equipment for the upcoming Punahou Carnival.

"Come take a picture with us," said Linda, assembling the working crew in front of the Wave Swinger, one of the rides being refinished for the Punahou Carnival. "This is for Kane · and all the families of Hawai'i."

Emeleta Ho'opi'i, a 36-year employee, was teary-eyed as she hugged Linda, who runs the businesses' food concessions.

"He was one nice man — with a soft heart for everyone," said Ho'opi'i. "We will miss him."