By Brandon Masuoka
Advertiser Staff Writer
The man who police believe fired the gun that killed a Kane'ohe liquor store owner on Christmas Eve was charged with murder yesterday.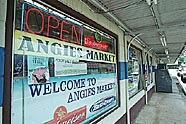 Customers and neighbors of Angie's Market say store owner Song Chol Marshall was careful to check IDs of underage customers.

Eugene Tanner • The Honolulu Advertiser

Police charged Eric. K. Vance, 31, with second-degree murder, first-degree robbery, unauthorized control of a propelled vehicle and two firearm offenses. His aggregate bail was set at $250,000.

Vance is accused of shooting Song Chol Marshall, 45, inside the victim's van in what police believed was a botched robbery.

Two guns were recovered in the investigation and police are testing them to determine if one was used in the shooting, police said.

Vance is scheduled to have his initial appearance in District Court today and his preliminary hearing on Wednesday.

Police arrested five suspects in connection with Marshall's murder, and Vance is the first man to be charged. The others arrested were Gabriel Apilando, 30; Sheldon W. Barques, 31; and brothers Albert R. Hoapili Jr., 33, and James K. Hoapili, 28.

According to the Hawai'i Criminal Justice Data Center, Vance has 20 convictions, including 10 counts of second-degree theft, four counts of auto theft, prostitution, weapons offenses and drug offenses.

Homicide Lt. Bill Kato yesterday said robbers are suspected of confronting Marshall while was inside his white van in the driveway of Angie's Market on Kane'ohe Bay Drive shortly after 10 p.m. Dec. 24.

After shooting Marshall, the robbers dumped his body into a Waimanalo trash bin and then torched the van in Mapunapuna, Kato said.

Marshall's wife said the van contained about $20,000 to $30,000 worth of store items, according to Kato. Some of the items were recovered dumped off Old Kalaniana'ole Road in Waimanalo, Kato said.

Rence Hippe, who lives in an apartment complex next to Angie's Market, said she wasn't comforted by the arrests, because people are always in the parking lot at night partying.

"Even though they caught those people, we don't feel like we are safe," she said.

Hippe went to Angie's Market on Christmas Eve about 30 minutes before closing time. No one else was in the store, but Marshall was busy cleaning up for the night, she said. She was at her aunt's in the complex when Marshall disappeared, but said they didn't see or hear anything.

"His wife always gave my daughter little toys. They're good people," Hippe said. "When this thing happened I was scared."

Marshall was a stickler for checking IDs when customers tried to buy tobacco or liquor. The store never sold those to teenagers, Hippe said. "Nobody had a problem with him," she said. "It seems like he knew all of his customers."

Others who work nearby and knew Marshall said the same. He enjoyed talking-story and was friendly, but never let anyone underage buy liquor or cigarettes.

Stanley Fujimoto lives three doors from Angie's Market. Marshall's death shocked him. "We don't come out at night much," he said. "You can't be safe. Nowadays anything can happen."

Advertiser staff writer Jennifer Hiller contributed to this report.