By Alice Keesing
Advertiser Education Writer

Hawai'i's Teacher of the Year is one of four educators on the short list to become the top teacher in the nation.

Derek Minakami is only the second teacher from Hawai'i to ever make it to the final four, according to Department of Education officials.

"It really came as a surprise — a very welcome surprise, though," said Minakami, who teaches physics at Kailua High School.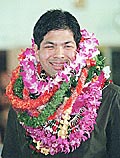 Derek Minakami is in the running for top U.S. teacher.

Advertiser library photo • Oct. 19, 2000

Hawai'i State Teachers Association spokeswoman Danielle Lum said Minakami deserves the national recognition.

"It's wonderful because Hawai'i's teachers — all of them — put in long hours and for Derek to get this far is representative for all of Hawai'i's teachers. He's like the torchbearer," Lum said.

In announcing Minakami as a finalist, the National Teacher of the Year Program noted his commitment to ensure that he never stops improving as a teacher. Minakami last year became the state's first public school teacher to enter the prestigious ranks of nationally certified teachers.

Minakami will travel to Washington, in March for an interview with the selection committee. The other finalists are from Alabama, South Carolina and Vermont.

President-elect Bush will announce the winner in April.

The National Teacher of the Year serves as a spokesman for the entire teaching profession, addressing colleagues, the business community, government officials, parents and students across the country.