By Ann Miller
Advertiser Staff Writer
KAPALUA, Maui — The big guy is back for more at the Mercedes Championships. He trails the little guy by a shot after the first round, and Tiger lurks.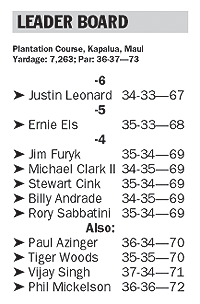 Justin Leonard, ducking his 5-foot-9 frame under the 15 mph Plantation Course wind, shot a 6-under-par 67 yesterday. He is one up on 6-foot-3 Ernie Els, who dropped a dramatic playoff to Tiger Woods here a year ago.
Els lost last year despite an eagle-3 on the 18th. He eagled it again yesterday, to break away from the gridlock at three-and four-under that includes Woods (70), Billy Andrade (69), Jim Furyk (69), Stewart Cink (69) and Paul Azinger (70), who will defend his Sony Open championship next week at Wai'alae Country Club.
Leonard, not among the Top 100 in driving distance last year, also reached the green in two at the par-5 18th, which flows 663 yards downhill and downwind, seemingly into the Moloka'i Channel.
Only Leonard three-putted from 50 feet to become one of only a dozen players who didn't birdie — or better — the Plantation's easiest hole. He also had two bogeys, but birdied more than half the remaining holes, all with putts of 15 feet or less.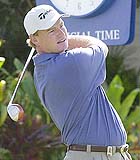 Ernie Els eagled the 18th hole to close to one shot behind leader Justin Leonard.

Gregory Yamamoto • The Honolulu Advertiser

"I feel like I've gotten to the point where I can compete on any kind of golf course, and I'm still a smart player," Leonard said. "Other guys do it in reverse. They bomb it, then they get smart. I don't bomb it, but I'm getting closer, and at the same time, I'm still able to think my way around the golf course."

Leonard, the 1997 British Open champion, wasn't here last year, failing to win in 1999 for the only time in five seasons. He halted that skid at the 2000 Texas Open to qualify for this tournament of champions, and put together 13 more Top-25 finishes in his most lucrative year as a pro ($2,023,000).

Few noticed, with Woods winning nine tour events and more than $9 million, in a dominant year that started here and doesn't appear to be close to closure.

"Tiger has obviously found a way to get himself ready to play every week," Leonard said. "That's what the rest of us need to find.

"There have been some players that have done that over a stretch of time, maybe not as long as Tiger has done it. You look at the way that Ernie has played. You know he can get on a real roll. David (Duval) is obviously a great example. That's what the rest of us are searching for — how to get our games ready everyday, every tournament we play."

Els continued to clobber Kapalua with his "Big Easy" swing. He is 21 under in his last five rounds here, despite the Plantation's gargantuan greens and an all-but-ubiquitous breeze that came up early yesterday and only got stronger.

Els' only error came early, when he "mis-read the wind" at the par-5 fifth. He came up far short, took a drop out of the hazard and made bogey. He also missed three birdie putts from within 12 feet on the final five holes, but the eagle — from six feet — more than compensated.

Woods also hit into a hazard, on the ninth hole. His ball was found after a massive search and he blasted it out of knee-high grass into a bunker. Eventually, it led to his only bogey.

"He did that here last year as well," said Els, who played three rounds with Woods a year ago. "He's a little different out of that stuff than any of us, you know? He's showed that a couple times."
SHORT PUTTS: Jesper Parnevik's team won Wednesday's Pro-Am, with a score of 18-under-par 55. Phil Mickelson's team was one shot back. ... Canadian Mike Weir was the early, early leader yesterday. He went out first, alone, and finished in 3 hours, 10 minutes, and 70 shots. ... Loren Roberts was four under after 15 holes, but took a 9 at the par-4 16th and finished at 74.